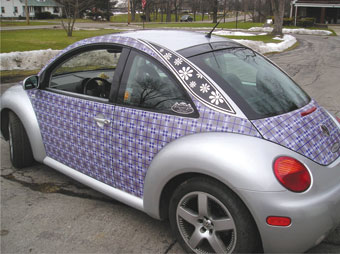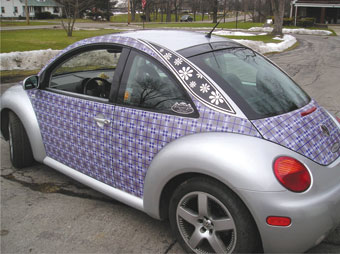 Tired of purchasing more material than you need? Tired of all that unused, extra material at the back of shop? MACtac® Graphic Products is now offering vehicle wrap bundles in new sizes that enable printers and installers to purchase just the right amount of material for smaller wrap jobs.
Its IMAGin® B-free® GRUV™ GV929BFD and PERMACOLOR® RAYZor™ LF3648G are now available in single vehicle wrap bundles of 54-inch-by-75-foot rolls.
"The bundle allows printers and installers the option of purchasing only the material they need to complete a vehicle wrap without waste," says Mary Ann Kucera, MACtac product marketing manager. "The GRUV GV929BFD and PERMACOLOR RAYZor LF3648G combination provides great-looking—and long-lasting—results."
IMAGin B-free GRUV GV929BFD is a 2.1-mil gloss white vinyl for permanent vehicle markings and long-term outdoor signage on flat, curved, complex, and riveted surfaces. It features an opaque, B-free air-egress acrylic adhesive for easy installation and removal, and a bright white face for accurate color reproduction. GRUV GV929BFD offers an outdoor durability of up to nine years for the unprinted film.
PERMACOLOR RAYZor LF3648G is a 1.5 mil cast pressure-sensitive overlaminate film that provides fast, efficient processing without the need for heat, drying, or messy coating operations. Ideal for use with GRUV GV929BFD, PERMACOLOR RAYZor LF3648G is a highly conformable laminate with a high-gloss finish that not only protects vehicle graphics, but also adds body to the graphic for easier installation. PERMACOLOR RAYZor is designed for up to five years outdoor use.