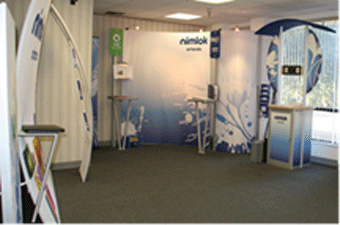 Nimlok Orlando has announced the opening of the company's newly designed showroom at their headquarters located at 4850 L.B. McLeod Rd. Orlando, FL 32811. Containing a wide assortment of tradeshow exhibits and design ideas, the showroom is open to anyone looking for the latest tradeshow displays and designs.
"The exhibits on display in the Nimlok showroom feature the latest designs utilizing durable lightweight material", explained Paul Conway, president of Nimlok Orlando. "Our customers are demanding tradeshow display solutions that are easier to ship and still provide that WOW factor they need on the tradeshow floor."
The showroom at Nimlok Orlando is the latest milestone for the company, who has been in the business of tradeshow exhibits for over forty years. The company has performed several high-profile projects, including work on:
* Bristow Academy, Inc.
* CFE Federal Credit Union
* Mitsubishi Power Systems Americas, Inc.
* Nutrex
* Orlando Regional Chamber of Commerce / Central Florida Partnership
* American K9 Detection Services, LLC (AMK9)
* TRAKA USA LLC
* UCF-Rosen College of Hospitality Management
*Waste Pro USA
* The Academy/Walt Disney Imagineering
Additionally Nimlok Orlando has invested in a multimillion-dollar rental inventory to ensure they could meet the needs of customers when others could not. "Our tradeshow rental inventory is one of the keys to our success." said Debbie Lippens, general manager at Nimlok Orlando. "We take great pride helping customers through every step of the exhibiting process with ease. Our new showroom will make it easier for our clients to visualize the actual exhibit."
From exhibit sales to storing, shipping, set up and dismantling of exhibits Nimlok Orlando is able to offer customers the ability to show up at a tradeshow ready to go, anywhere in the world.
Nimlok Orlando is a display and exhibit solutions company. They help companies achieve their branding and marketing goals by providing such options as tradeshow booths, exhibit walls, kiosks, permanent displays, and much more. Nimlok has been in the display and exhibit industry since 1971 and has an international network of 200 partners in 56 countries. Nimlok Orlando can design it, build it, ship it, install it, dismantle it, and store it.
For more information, visit www.nimlok.com/orlando/ or contact Paul Conway at [email protected].