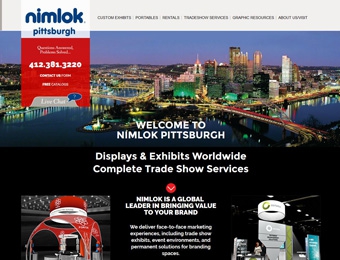 Nimlok®, a division of Orbus Exhibit & Display Group®, is proud to announce that Nimlok Pittsburgh, the exclusive Nimlok distributor for the Pittsburgh metropolitan area, unveiled a new Web site on June 6, 2016. The site features a clean design, simplified navigation, and content focused on Nimlok Pittsburgh's expertise in custom exhibit design, portable, and rental display solutions.
"We were looking for a digital makeover," said Bill Averman, CEO of Nimlok Pittsburgh. "We knew that our new website design needed to focus more on our solutions-oriented business model and I think the new layout accomplished that."
Nimlok Pittsburgh's new website will be regularly updated with company news, new project photos, and display graphic resources.
To learn more about Nimlok Pittsburgh's offerings, visit www.nimlok-pittsburgh.com.