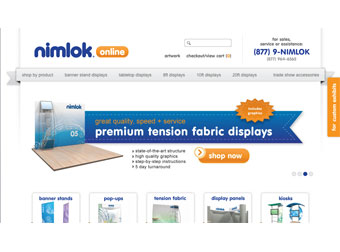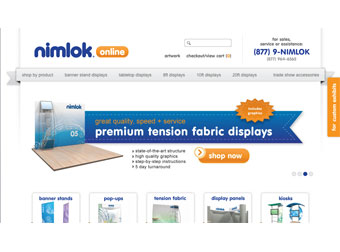 Nimlok, one of the world's premier providers of custom, custom modular, and portable trade show exhibits is proud to announce the introduction of Nimlok Online, its new e-commerce web site. For the first time ever, customers will have the ability to purchase select quality Nimlok portable trade show display products at
www.nimloktradeshowdisplays.com
.
"After careful research and consideration, this new e-commerce platform was designed to respond to the ever-evolving needs of our customers and distributors," said Giles Douglas, President of Nimlok. "As we see an undeniable rise in online buyer confidence in our industry, in partnership with our dealers, we're thrilled to offer Nimlok Online as a trusted source for purchasing quality small portable Nimlok trade show solutions online."
Nimlok Online is a project funded and supported by Nimlok's nationwide distributor network including the promotion and marketing of the e-commerce program on unique distributor web sites.
"With more access to portable products and solutions comes more name recognition and potential in the marketplace for us," said Deb Venable, Managing Partner, Nimlok Chicago.
On the Nimlok Online homepage, visitors can navigate/search by product type or display size to find and order portable products with ease. Nimlok Online also offers a wide selection of Nimlok Fast Solutions portable trade show displays, including:
• Banner Stands
• Compact Popup Displays
• Compact Image Displays
• Wave Tension Fabric Exhibit Kits
• Pulse Tension Fabric Displays
• Velocity Kiosks
• Easy ST Panel Displays
• Counter Systems
• SmartWall Tension Fabric Banners
• Lighting
• Literature Racks
• Cases