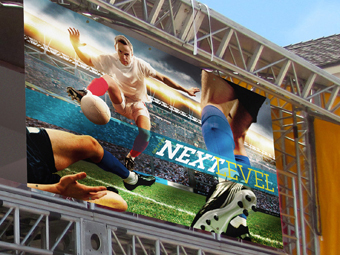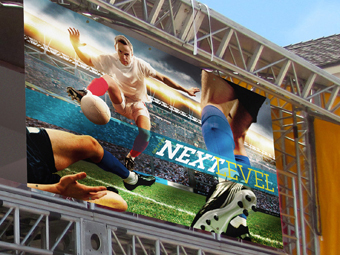 In the sign industry, the technology is always improving, changing, and getting faster, but this is perhaps nowhere as evident as in the digital printing sector.
It's long been proven that digital printing isn't a fly-by-night technology—it's here to stay. In fact, according to the SGIA 2012 Market Trends & Product Specialties report the Graphics & Sign Community, nearly 70 percent of companies are reporting they are exclusively digital or multi-technology shops favoring digital. And more than 95 percent of companies report that they produce digitally printed products.
We take a closer look at this booming sector to learn what new technologies and markets are shaping production.
Hardware
With the advent of faster, more agile digital printers, a sign shop's must-have list has expanded. Speed is still a top factor, as well as reliability, image quality, and superior color management for those shops dealing with corporate color profiles.
In today's competitive market, flexibility is also important. "Shops today are expecting more out of their printer today than ever before. With a focus on increasing revenue and growing profits and the diversity into other markets and new applications, print shops have become and continue to become jacks of all trades," says Dave Conrad, marketing manager at Mutoh America, Inc. "The days of having specialized equipment for specific applications are fading."
According to Andrew Oransky, director of marketing & product management at Roland DGA, features that deliver flexibility for customers are integrated print/cut options, a range of ink choices, and easy loading and setup.
On the other hand, Mark Radonga, group product manager at Epson, points out that there's a difference between flexibility and excess. "People are smart. They don't want to pay for technology they're never going to use," he says.
The type of printer—roll-to-roll or flatbed—can affect the versatility of production. Roll-to-roll printers have always been popular, but flatbeds are starting to come to the forefront. "We certainly see a big demand in flatbeds right now. That's really driving things in the market," says Larry D'Amico, vice president of Digital Imaging at Agfa Graphics.
A reason for this demand may be the need to expand. "Almost all sign companies start off as a roll-to-roll sign company. And as they become successful, a light bulb goes on, and they realize they can't grow their gross revenue anymore unless they start offering direct, rigid output," says Radogna. "The customer cannot compete by creating a sign on a vinyl and then laminating or gluing or sticking it to foamboard. It's slower and way too expensive. They won't win. So they end up finding that they have to buy a flatbed."
As a result, shops will invest in either a true flatbed printer or opt for a hybrid printer.
Demand for flatbed printers may also be caused by the advent of UV LED curing technology. "UV LED curing technology is the future. And the reason why is that we can make a smaller, more compact, less costly engine mechanism to cure UV-based inks," says Radogna. "Those inks, right now, are the only way to print on rigid, thick materials because you don't have to use heat to cure the ink."
But the technology is not perfect, and the industry has been slow to adopt it for the most part. "With any new technology there's always a compromise, and the compromise we've seen is speed," says D'Amico. "Nobody's going to want it if they have to slow the machine down."
To get the speed to match industry standards, the cost is high. As Radogna points out, more LEDs or exotic forms of LEDs are required, so the price goes up.
Inks
As hardware changes, so too does the ink used in the machines. Additional colors such as orange and violet are being added to the typical CMYK, and inks are also becoming more environmentally friendly with the addition of latex and eco-solvent options. But one of the biggest developments in recent years has been white ink.
"White ink is an incredibly important component of any printing system today because of the vast market demand," says Greg Lamb, CEO of Global Imaging, Inc. and PrinterEvolution. "White inks are becoming easier to print as the system requirements become better understood. The inks are becoming whiter and more opaque, requiring less lay down, which all adds up to cost savings."
As white inks have been perfected, their use has become more and more common in sign shops and they have opened up the possibilities for new applications and markets, including window clings and backlit signs. "This development gives sign shops the ability to expand their product offering, become more efficient in their printing process, and grow to service existing markets more efficiently and new markets they may not have been able to penetrate before," says Conrad. "It makes it easier for the sign shop to print on a wider variety of substrates and offer finished products they may not have been able to produce for existing and new customers in the past."
Metallic inks are also opening doors for sign makers. "Metallic printing has been very interesting to a lot of our users," says Oransky. "Metallic offers a level of visual impact that has allowed shop owners to charge significantly more. We recently surveyed our installed base and discovered that service providers were able to charge almost 30 percent more on average."
But awareness needs to catch on for metallic inks to fully enter the sign industry. "I do believe inks that are truly metallic will start to take off once sign builders start to market and promote the ability to print things with metallic inks," says Radogna.
Markets
The development and improvements in hardware, inks, and printing technologies have all paved the way for sign makers to enter previously untapped markets such as walls, ceilings, floors, and windows—also known as digital décor. "That addressable market is estimated to be comparative in square feet as our traditional signage and display market with less than 5 percent of that market currently being done in a digital manner," says Lamb. "This is largely being driven by availability of content, and most importantly, on-demand, customized inventory management."
Another expanding area is customization. "The ability to print directly to everything from iPhone cases and key chains to sunglasses and gun grips has offered new possibilities to an industry that until very recently was limited to pad printing," says Oransky. "Entire businesses have been built around the ability to offer truly custom designs on otherwise off-the-shelf consumer products."
But two of the major markets that might offer the greatest opportunities are dye-sublimation and packaging.
Dye-Sublimation. "With the opportunity to grow into new markets such as soft signage, flags, apparel, and home furnishings, the allure of textile printing is high," says Conrad.
Demand has increased for a number of reasons. For one, the look and feel of fabric works well in retail shops and on tradeshow booths. In addition, fabric is much lighter than other substrates so shipping costs are reduced. It also offers a greener alternative to PVC-based materials.
Fabric printing is also a market that remains unsaturated. "Today, print providers are looking to expand their offerings into a higher margin arena as our traditional vinyl and board printing market has becoming more commoditized," says Lamb. "We at PrinterEvolution estimate that there are roughly one-hundred industrial ten-foot wide fabric printers in the USA, and that there are roughly 60,000 roll-to-roll and flatbed printers in the USA. I think that should give you an idea of why one market is highly profitable and the other is becoming more commoditized."
But sign shops should be careful to ensure that they have the demand for the product before entering the market. "I'd still call it a relative niche, and unless you're dedicated to that market and have the volume for it, you can't buy the bigger, higher-end machines to really run it effectively the way it should be done," says D'Amico.
The right machine to handle the job is another important aspect of this market. Printers have begun to offer more affordable printers and improved transfer paper options, which has helped shops to enter the market at a lower cost.
Packaging. Digital printing developments are allowing for an ideal set up for some shops to enter the packaging prototype market. "The range of package designs and configurations has exploded in the past few years for almost every product, and printers have realized that it is one market segment that can never be replaced by an electronic device," says Oransky.
Technology like UV LED has enabled sign shops to print on substrates used in packaging, and further development of this technology may lead to further growth into the packaging market. "For instance, in the packaging market, the ability to create realistic prototypes has been enhanced by the fact that LED UV printers can print on thin bag films, shrink films, and other heat sensitive materials without any special coatings or handling," says Oransky.
Developments in inks have also leant themselves to this market. Metallic inks are popular, and white allows users to print on materials frequently used in packaging, such as clear substrates and cardboard. Of course, the increased adoption of flatbeds and hybrid printers also means the ability to print on more rigid substrates.
But the question of demand in sign shops is still a big one. "That market's still unknown as to whether or not it will be a mainstream product," says Radogna. "There are inks and technologies coming to market that will probably be better suited for this segment, so I would say stay tuned on that one."
By Ashley Bray
Photos (from top to bottom) courtesy of Roland DGA, Agfa, and PrinterEvolution.