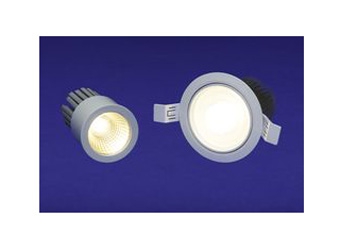 National Speciality Lighting releases The LED Low Voltage Down Light (LV-DL series) utilizing a high-brightness Epistar COB (Chip On Board) LEDs that offers an exceptional thermal performance, low power consumption (8.2W with the LV-DL8 series, 13W with the LV-DL13 series) with a long lifespan of 50,000 hours.
The LV-DL8 series has 5 different trim designs to choose from while the LV-DL13 offers a small 110mm (4-inch) adjustable gimbal. Both LV-DL down lights feature a specifically designed heat sink to disperse heat and are powered by a constant current power supply that is dimmable with most trailing edge electronic dimming systems.
The LV-DL is perfect for both commercial and residential applications.
Key features include:
* Energy efficient—up to 80 percent energy savings
* High-brightness COB LEDs
* Low power consumption
* Warm White and Neutral White color temperatures
* Available in two standard beam angles
* New Construction, IC and remote installations
* ETL listed for direct contact with insulation and combustible materials (LV-DL13)
* Self-resetting thermal protector
* Easy to install, modular design
* 50,000-hour life
* Five-year limited warranty
For more specific information please visit; http://nslusa.com/Product.php?product_id=15959 or download http://magiclite.com/Files/PDF_Brochures/201604120913230.NSL_LV_DL_2016.pdf