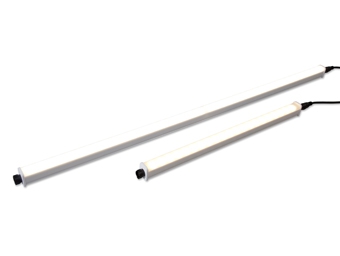 The Batten luminaire, best known for its high-class performance in awnings, utilitarian lighting, or ambient lighting, is now offered in two new vibrant colors—red and blue. Following the release of the regular output white Batten, GE has expanded its product line to include highly demanded red, blue, and high-output white Battens to its product offerings.
"The Batten is ideal for locations such as ATM lighting [among others] as it comes in lengths as small as one-foot and as long as eight-foot, making it suitable to various applications," says Sharee Thornton, lead product manager for Signage at GE.
Previously the Batten has been offered in one-, two, four-, and eight-foot options varying from 3000K to 7100K in color temperature in some options. It has now added to its product line: high-output whites with up to 6,430 Lumens per fixture (typical). Red Battens are also offered in three different sizes—2-, 4-, and 8-foot with up to 1,334 lumens per fixture, and the blue is currently offered in 2-foot and 4-foot of up to 334 Lumens per fixture.
The Batten comes with many features that make it easy to use, and maintenance and installation friendly. For example, mounting clips that make installation a breeze.
"The Batten can be daisy-chained from end to end, making installation a snap," says Sharee. "Its integrated power supply eliminates the need for external drivers."
The Batten can be used in harsh conditions of as low as -40F to high temperatures of 140ºF including wet weather thanks to its IP66 rating. It outperforms fluorescent with its reliable long life and preserving color uniformity throughout its lifetime.
"We see a lot of interest and applications [for the Batten] and we may be launching some exciting new colors," says Sharee. "We are always looking to cater to our customers' requests and to expand our signage LED offerings."
The complete line of Batten luminaires is now available for sale. For more information, contact your GE Sales representative by calling 888/MY-GE-LED or visit www.currentbyge.com/tetra.