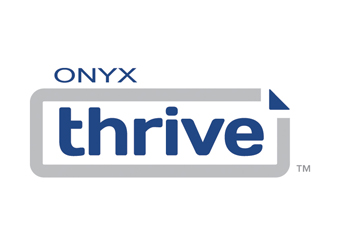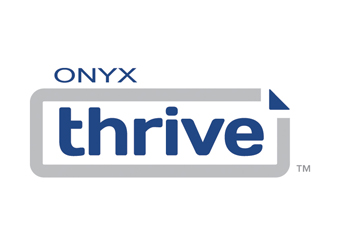 ONYX Graphics, Inc. today introduced ONYX® Thrive™ workflow software, a new, scalable print production solution based on Adobe® PDF Print Engine technology. ONYX Thrive software manages the wide format print production workflow process offering print service providers accurate, predictable, high quality printing results, and reducing costly errors.
ONYX Thrive software is designed for service providers that want to invest in workflow software to manage their print production environment rather than purchase separate raster image processor (RIP) products that require individual operator attention. Print service providers can feel confident about investing in workflow software that fits the way their shops work today, with the peace of mind that comes with the ability to scale their ONYX Thrive software as business grows.
"Print service providers tell us they need predictable and accurate reproduction of increasingly sophisticated graphic design to support new business opportunities while utilizing their existing printer technologies," explains Kevin Murphy, President and CEO of ONYX Graphics, Inc. "We are pleased to offer ONYX Thrive software to meet the needs of print service providers who are looking for a high performance PDF workflow that can support their business growth."
Preempting unexpected results that can delay production and add costs
On a daily basis, print service providers accept digital files from their clients that are created using a variety of graphics software applications. In wide format and specialty graphics applications, these digital files are commonly created using the latest graphic design effects and techniques and are most often submitted as PDF, Adobe PostScript®, or EPS files. Today, these digital files are sent to a variety of RIP products in the shop that – depending on how the file was built – can process the files in a different manner, which can deliver unexpected results. If the print doesn't match the client's intent, the file must be corrected and re-run, resulting in increased labor and material costs for the shop, reduced turnaround time, and potentially lost profit on that job.
ONYX Thrive software seamlessly handles these varied file formats and reproduces the client's intent in an accurate, predictable manner. Print service providers can be confident in the printed output and avoid the costs associated with handling unexpected results.
Powered by Adobe PDF Print Engine
ONYX Thrive workflow software is powered by Adobe technologies including the Adobe PDF Print Engine[1], a rendering engine technology that Adobe partners – such as ONYX Graphics – use to build tailored solutions for their market segments. The Adobe PDF Print Engine enables a true end-to-end PDF workflow from digital file submission through color management, printing and cutting.
In ONYX Thrive software, the Adobe PDF Print Engine natively renders PDF digital master files generated by any graphics authoring application, maintaining fidelity to the creative intent across the workflow. This eliminates late-stage surprises common in the rasterization of complex graphic design effects, including issues related to transparency layers, mixed color spaces, and spot color handling. Knowledgeable print service providers appreciate the importance of accurate, predictable output made possible by use of PDF, the industry's richest and most reliable imaging model.
ONYX Thrive workflow software maximizes throughput with a high performance software architecture that harnesses the scalability of the Adobe PDF Print Engine. For example, a six-core processor computer can be maximized to simultaneously run six Adobe PDF Print Engines, even if only four printers are being driven. The result is the ability to keep printers and cutters fed at maximum capacity.
Production Manager
Featured in ONYX Thrive software is the new Thrive Production Manager browser-based user interface that enables print service providers to submit, control, and monitor jobs and devices from their Macintosh®, Windows® PC, or mobile device. Print service providers will no longer need to move among several independent RIP workstations and output devices to monitor and manage production, optimizing both operator and output device productivity.
Automation, Color and Ink Savings
ONYX Graphics is known for Quick Set automation, and ONYX Thrive software continues that tradition. Quick Sets simply define the automated steps for jobs to follow, enabling operators to submit digital files and move on to other tasks as the files travel through the workflow unattended. Advanced nesting enhances automation by optimizing media use and reducing waste.
ONYX Thrive software includes the ONYX Profile Generator module, featuring simple Print > Read > Next color profiling. Powerful advanced user tools are available to control and fine tune color profiles for the most demanding clients.
Availability
ONYX Thrive workflow software will debut at the FESPA Digital 2012 exhibit being held in Barcelona from February 21-24, 2012. The product will be available in Spring 2012. It joins the award-winning print production product line including ONYX ProductionHouse™, ONYX PosterShop®, and ONYX RIPCenter™ software packages.