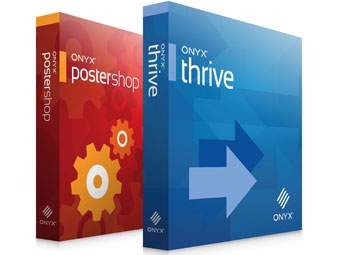 At the upcoming Specialty Graphic Imaging Association (SGIA) Expo, September 14-16 in Las Vegas, visitors will be able to see the next update to ONYX workflow software. ONYX 12.1 builds upon the ONYX 12 platform that improves performance, simplifies production and enables further automation for wide format digital print service providers.
Highlights of ONYX 12.1 software
Eliminate production bottlenecks with the ONYX 12.1 record benchmark speeds for file processing. On average, processing times in ONYX 12.1 software are three times faster than in ONYX 12 for halftone processing. Data transfer speeds to many grand format printers are also up to three times faster.
Achieve a higher level of color consistency across multiple devices with integrated G7 correction, verification and iterations, making it easier to match color and build output consistency.
Process control, using the ONYX AccuCheck module, enables shops to prove color standards are being met. This tool gives print operators the ability to measure and instantly verify that colors will be printed right the first time.
Save time with more automation tools. Enhanced tiling, combined with other job preparation tools, enables a wide variety of print applications.
Improved device support including QR codes in Zünd Cut Center and support for additional color devices from Epson and X-Rite.
Dr. Max Derhak shows how Onyx Graphics is "driving the future of color"
Dr. Derhak will be providing an insightful lecture on the subject of "Driving the Future of Color" at the SGIA expo on September 15 at 1:00 PM in room N116, where he will discuss how emerging technologies in color can solve some of today's color management challenges. Dr. Derhak will present an overview of the next-generation color standard iccMAX, and will illustrate the potential impacts on areas such as wide format printing, photography, packaging, medical imaging and fine art reproduction.
Attendees are invited to stop by the new Onyx Graphics booth 932 at the SGIA Expo for a demonstration of these new features. Visitors will be able to see ONYX software in action, running printing devices across all technology platforms and applications. ONYX software will be shown across the full exhibit floor, in numerous partner and reseller booths.