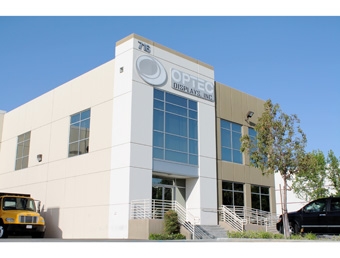 Optec Displays Inc., one of the nation's top LED display manufacturers, as well as a supplier of high-efficiency LED lighting, will move its headquarters from its current location in the City of Industry to twenty miles east in Ontario, California by the end of April. Citing the need to grow its facilities, Optec will move its administrative offices, tech support, research and development, engineering, and product assembly to 1700 S. De Soto Place in Ontario.
The new facility is 81,000 square feet, which is more than double the size of its current headquarters. Optec has approximately 90 employees. Up to 75 of those will be working out of the Ontario headquarters.
"We have been looking forward to this move for a very long time," said Optec CEO Shu Wu. "Our City of Industry headquarters has served us well for the past five years, but we have simply outgrown it. To keep up with increasing demand, we need more room for our engineering, assembly, inventory, shipping, tech support and the sales department."
Founded in 1985, Optec produces huge full-color, outdoor displays (or 'Spectaculars') with wide resolution to see from a long distance and high speed, to smaller, tight-pixeled screens meant for walk-up viewing. They have supplied thousands of displays for Sonic Drive-In, McDonald's, Burger King, Carl's Jr., Dairy Queen and other restaurant chains worldwide, as well as numerous casinos, including Harrah's, Hard Rock and Golden Nugget casino resorts. Some of their displays include the LA Coliseum, Valley View Casino Center (San Diego Sports Arena), the Orange County Fairgrounds, 1 Oak nightclub in LA, in addition to the famous Turner Field Coke bottle sign behind the Atlanta Braves' left field.
For more information about Optec, visit www.Optec.com, connect on Facebook, or see the displays in action on their YouTube channel.