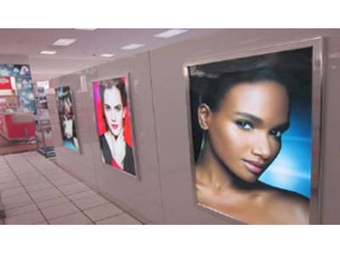 Stylmark announces a newly updated, sleek design of their Optima 450 LED® Edge-Lit Light Box. The angled, faceted design of the light box gives the Optima 450 LED a more visually appealing look and feel that is ideally suited for commercial environments.
Already the brightest and the most customizable light box of its kind in the industry, the Optima 450 now also offers the ability to separate the LED panel from the LED strips, making in-the-field replacements simple and easy.
The Optima 450 LED Edge-Lit Light Box can now be customized with either external or internal power supplies. Both options are ADA-compliant for single-sided units. The internal power supply enclosure is anodized to match the light box frame, creating the illusion of a single unit box.
"Stylmark saw the market's growing need to make LED strips easily replaceable," says Kevin Hogan, president of Stylmark. "Today's market requires high quality light boxes—that can also save money for our customer."
Available in Stylmark's wide variety of colors and finishes, the Optima 450 LED Edge-Lit Light Box can be wall mounted or suspended from the ceiling. Double-sided, custom sizes and custom finish units are also available.
The new and improved Optima 450 LED from Stylmark is scheduled to be released in March 2014 and will be available for viewing at the GlobalShop Expo on March 18-20, 2014 at the Mandalay Bay Convention Center (Booth #1557) in Las Vegas, Nevada.
For more information about the new and improved Optima 450 LED, call 877/866-3033 or click HERE.