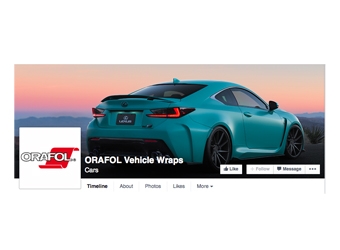 In an effort to recognize the talented installers utilizing ORAFOL restyling products, ORAFOL Americas launched new social media pages on Facebook, Instagram, Twitter, and YouTube.
"We hope to bring even more attention to solid-color vehicle wraps and the many installers who are paving the way to making these wraps an integral part of the vehicle restyling market," states Craig Campbell, Graphic Products Market Manager for ORAFOL Americas Inc.
ORAFOL first introduced a solid color wrapping product to the US market back in 2006 and continually improved the product, now known as ORACAL® 970RA Premium Wrapping Cast with RapidAir® technology. Since releasing series 970RA, ORAFOL increased its restyling portfolio to include ORACAL® Series 975 Premium Structure Cast as well as a series of paint protection films ORAGUARD® 270 & 280 Stone Guard.
ORAFOL is also the first film manufacturer to offer a complete line of Wrap Care products specifically designed to care for and maintain vehicle wraps.
ORAFOL is dedicated to providing premium solutions for both installers and consumers for their vehicle restyling applications and plans to expand this product offering to meet the growing demands of the market.
For more information, product samples, or to locate an Authorized ORAFOL Distributor, contact ORAFOL at 888/672-2251 or visit ORAFOL at www.orafolamericas.com.