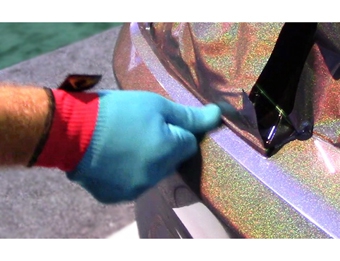 The WrapGlove™ brand is well known among the wrap installer community to make vehicle wrap installations faster and easier. The new blue glove with a red wrist band is exclusively made for ORAFOL and is available from an authorized ORAFOL distributor.
Unlike other gloves, WrapGlove does not shed fibers and will not stick to graphic film adhesive due to its unique fabric weave. Now, with WrapGlove, there are no worries about contaminating the adhesive or transferring oils from your skin. The WrapGlove is easy to care for by washing in cold water and line drying.
For more information, product samples, or to locate an Authorized ORAFOL Distributor, contact ORAFOL at (888) 672-2251 or visit ORAFOL online at www.orafolamericas.com.