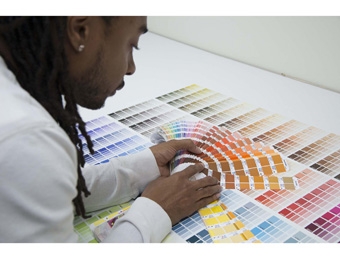 Orbus Exhibit & Display Group®, one of North America's leading trade suppliers of display, exhibit, and event solutions, is pleased to announce enhancements to the company's graphic equipment, capabilities ,and services, which benefit their extensive dealer network. The additions and improvements include new progressive print equipment, sales and marketing materials, software and more. Orbus' state-of-the-art graphics and related services assist the company's dealer partners offset their own in-house graphic capabilities.
With state-of-the-art grand format printing equipment, technology and a superior graphic services team, Orbus is able to produce up to 17,000 square feet of display graphics per hour and can print on over 25 materials and substrates.
Recent additions to the company's grand format printing equipment have enhanced and increased printing abilities, reducing production and turnaround times. The company's Quality Control and full-service customer satisfaction staff includes talented print production crews, sewing and finishing teams, pre-flight art personnel and more, who are dedicated to producing the best quality and best fitting display graphics. These services and printing capabilities serve as an extension to dealer partner capabilities, and provide support during every step of the process. A behind-the-scenes look at Orbus' printing and finishing process is available here: https://www.youtube.com/watch?v=LpEShaALKDU.
In addition to extensive print capabilities and services, Orbus also offers first-rate artwork pre-flight, creation, and quality services to ensure accurate, high-quality printed graphics. A team of over thirty professionally trained art services professionals work side-by-side with the company's customers to evaluate artwork files, pre-flight artwork, and provide design services when necessary.
For many of its portable and fabric structure product lines, the company is implementing an automated pre-flight software in the effort to reduce the time from order placement, to proofing, to printing, again helping its dealer customers deliver excellent quality display graphics quickly. This new software compares artwork against pre-set profiles of print-ready requirements, and performs the pre-flight checks and tasks.
To best assist its dealer network in producing the highest-quality graphics, Orbus provides a library of guidelines and educational videos to ensure artwork files are set up optimally, and that dealers and their customers are aware of best practices to care for fabric graphics. Orbus' Graphics 101 videos cover a variety of topics including converting fonts to outlines, color matching, image resolution best practices and more.
"We are pleased to offer a wide range of graphic services that offset those of our dealer partners, and help them continue to build their businesses and create printed display graphics of the utmost quality," said Jaime Herand, vice president of Graphic Operations at Orbus.
For more information, visit www.orbus.com.