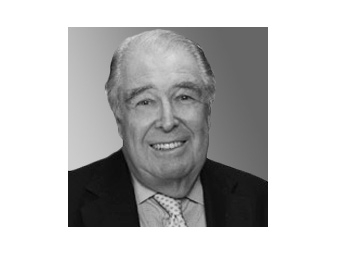 Orbus Exhibit & Display Group™, one of North America's leading trade suppliers of display, exhibit and event solutions, sadly announces the death of Gerald Perutz, its highly-revered, respected and honored P3 Group Worldwide Chairman.
Gerald died peacefully in London on April 20, 2015 at the age of 85. He is survived by his daughter Sandie MacClancy and his sons, Simon and Tim Perutz, who serve as P3 Group Presidents of North America and Europe, respectively.
Gerald was born in Vienna, Austria and immigrated to England in 1938. He spent the first half of his career as an Executive with the Bell & Howell Company before helping found Nimlok Ltd in 1970 with his friend, Neil Nimmo.
Over the past 45 years, the P3 Group has grown to be a leading global supplier of products for displays and exhibitions. Companies that fall under the P3 Group include Nimlok Ltd., based in the United Kingdom; Nimlok USA; Nimlok Canada; Orbus Exhibit & Display Group, USA; Ultima Displays in the United Kingdom, Italy, France, Poland and Canada; Marler Haley and Creative Bridge, both based in the United Kingdom.
"Gerald was an inspiring businessman, leader and compassionate gentleman," said Giles Douglas, President and CEO of Orbus Exhibit & Display Group. "We are very thankful to have had such a wonderful founder, mentor and caring leader. Gerald was involved in the business until shortly before his passing and will be deeply missed, and honored."
Funeral service will be held at 11 am on Thursday, April 30th at St. Laurence Church, Lurgashall, West Sussex, England. Memorial donations may be made to The Andrew Grene Foundation, which provides education and investments to transform lives in Haiti.