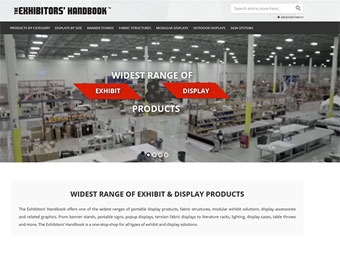 Orbus Exhibit & Display Group®, one of North America's leading trade suppliers of display, exhibit and event solutions is proud to announce the introduction of a brand-new sales and marketing resource, The Exhibitors' Handbook Web site. This interactive product Web site presents all of the exhibit and display products offered in the company's unbranded catalog, The Exhibitors' Handbook, on a per-product basis. The website is an unbranded resource for Orbus' dealer network to use in sales and marketing efforts.
"Orbus is happy to offer to our dealer base a valuable tool that will make it easier than ever for them to sell, market and explain the wide range of products available in The Exhibitors' Handbooks to their customers," said Natalie Whited, Vice President of Marketing at Orbus. "We hope that our current and future dealers take this website and use daily in their sales and marketing efforts."
Each product page on The Exhibitors' Handbook Website presents product descriptions, imagery, and dimensional and shipping data, as well as instructions, graphic templates and videos all in one centralized and convenient place. The new website also includes features such as basic and advanced keyword search, navigation options to find by category, size and type of display, filters to narrow by size, features and more, an "Add to Compare" option for review of up to five products side-by-side, and a "Share with a Friend" email option. These features enhance the functionality of the site, increase usability, and make The Exhibitors' Handbook website a valuable and useful tool for all dealers in Orbus' network.