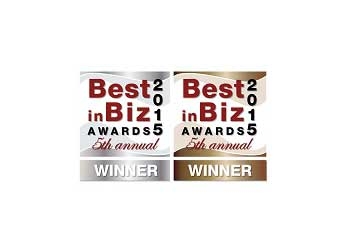 Orbus Exhibit & Display Group®, one of North America's leading trade suppliers of display, exhibit and event solutions is proud to announce that the company was recently named a silver winner in Company of the Year and bronze winner in Most Innovative Company of the Year Best in Biz Awards 2015. The Best in Biz Awards is the only independent business awards program judged by members of the press and industry analysts.
BiBA 2015 silverThe category Company of the Year – Medium-sized Company recognizes companies with 100-999 employees that have achieved overall excellence in company growth, product innovations, employee culture, customer service and more. Orbus was evaluated as one of four silver award winners based upon programs implemented throughout 2014-2015, including the expansion, relocation and consolidation of the company's Illinois-based operations in June of 2014, the introduction of hundreds of new rental, portable and modular tradeshow display solutions, and the addition of 150 new employees to the company's roster between January 2014 and August 2015.
BiBA 2015 bronzeIn the Most Innovative Company of the Year – Medium-sized Company category, companies with 100-999 employees are evaluated based on demonstrated innovations in new product developments, company culture and more. Orbus was chosen as a bronze award winner due to the company's extensive offering of new and innovative product introductions in 2014 and 2015.
The fifth annual program in North America boasted the highest number of submissions to date. More than 600 entries were received in 2015, from a wide array of public and private companies of all sizes and from a variety of industries and geographic regions in the U.S. and Canada.
"We are honored and pleased to have been chosen as a silver and bronze winner in two Best in Biz Awards categories," said Giles Doulas, President and CEO of Orbus. "We constantly strive to achieve higher than we have previously, and these awards recognize that drive."
Winners of Best in Biz Awards 2015 were determined based on scoring from an independent panel of 46 judges from highly recognized newspapers, business, consumer and technology publications, radio outlets, and analyst firms. The panel included contributors to ABC, Bloomberg Businessweek, Forbes, Hartford Business Journal, Inc. Magazine, Silicon Valley Business Journal and Woman's Day amongst others.
For a full list of gold, silver and bronze winners in Best in Biz Awards 2015, visit: http://www.bestinbizawards.com/2015-winners.