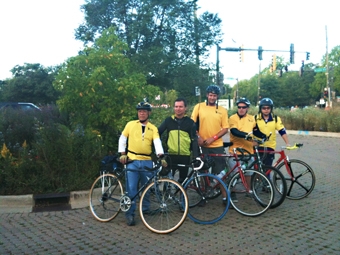 The Orbus Exhibit & Display Group, one of North America's leading trade suppliers of display, exhibit and event solutions, had thirteen staff members ride over 500 miles along the North Shore Century on the north side of Chicago to raise money for Over the Rainbow, a not-for-profit association dedicated to providing independent living solutions for individuals with physical disabilities.
On Sunday September 22, participants departed from the Evanston Ecology Center in Evanston, IL and traveled 25-100 mile routes to raise money for a great cause. Donations made to the Orbus team were generously matched by the company raising a total of $19,040.
"We had a terrific turnout from the Orbus family in response to the Over The Rainbow Challenge ride," said Simon Perutz, president of P3 Group North America (Orbus is a member of the P3 Group family of worldwide exhibit and display companies). "Our team rode a combined total of over 500 miles, enjoying the beautiful North Shore neighborhoods and refreshing breezes of Lake Michigan, all while supporting this great cause."
Over the Rainbow is an Illinois not-for-profit association dedicated to increasing the quality of life for people with physical disabilities through the creation of affordable, barrier-free housing solutions that encourage independence.
The Orbus Exhibit & Display Group is a market-leading, privately owned group of companies that specialize in the manufacture and trade-only supply of portable modular and custom modular, exhibit and display products, graphics and solutions. Companies within the group include Orbus365, SignPro Systems, and Origin. Orbus Exhibit & Display Group is the North American trade division of the P3 Group.