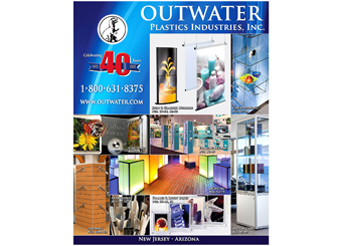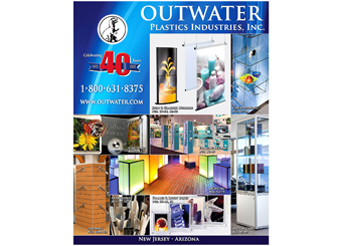 Outwater's [Outwater Plastics Industries, Inc. + Architectural Products by Outwater, LLC] newly released 132-page 2012 Sign & Store catalog supplement features a variety of Outwater's most popular Sign & Store products in addition to a host of many items not previously offered in earlier catalogs. These include:
+ Outwater's newly introduced series of Standoffs for Signage & Display
+ Cable Shelving & Signage Hardware
+ Economy and Deluxe Cable Mount Window Graphic Kits
+ Economy Cable Signage Kits & Hardware
+ Light Duty Channel Mount Hanging System
+ Cable Shelving & Signage Hardware
+ Hang It Sign Systems
+ Hang It Up Graphic Holders
+ Sign & Banner Holders
+ Graphic Holders
+ Aluminum Stretch Frames
+ Front Loading Plastic Flip Frame Profiles
+ Fully Assembled Frames
+ LED Crystal Light Box
+ Display & Picture Frames
+ LED Lighting
+ Halogen Lighting
+ Signage & Display Lights
+ LED Backlighting Signage
+ Flexible Stone Veneer Sheets
+ Luxcore Translucent Laminates
+ Faux Stone Panels
+ The FOGA System
+ Fixture & Wall Bumper
+ Aluminum Panel Clips
+ Plastic & Aluminum Mouldings
+ Sign Holders
+ Ceiling Display Accessories
+ Adhesive Sign Holders
+ Acrylic Products
+ Display Bases
+ Fastening Tapes
+ Magnetic Strip
+ And many other miscellaneous Sign & Store accessories.
As is the case with all of Outwater's catalogs, this supplement is published in an easy to use and easy to read format to benefit and meet the requirements of any industry professional.
Furthermore, all of the products depicted within the catalog are clearly and accurately represented with complete schematics, technical information, pricing and photos or drawings to facilitate application and purchasing decisions.
To order your free copy of Outwater's 2012 Sign & Store Catalog Supplement, please click this link.