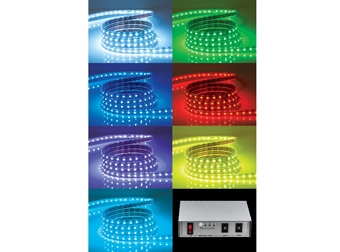 Recognized as the most versatile and thinnest LED Ribbon Lighting on the market, Outwater has expanded this extremely popular lighting series with the introduction of its new, super bright 120V LED Ribbon Flex Lighting.
With no fixtures to hide, Outwater's 120V LED Ribbon Flex Lighting can be easily mounted in all of those "hard to light" areas, or nearly anyplace that could not be previously lit, and is perfectly suited for illuminating any type of indoor or outdoor application that warrants an almost nonexistent profile.
The highly flexible, diminutive physical contour of Outwater's 120V LED Ribbon Flex Lighting not only permits it to practically vanish within the décor of any environment, because no transformers or amplifiers are required to power the 120V AC plug-in Ribbon Flex Lighting, an unprecedented continuous length of up to 164 feet can be run via an available single attached power cord.
Offered in cool and warm white along with red, green, and blue lighting formats, an available color-changing RGB variant allows you to generate basically any desired color.
In addition, complementary splicers (connectors), end caps and mounting clips along with a selection of clear, anodized aluminum LED Ribbon Mounting Channels readily enable a host of custom configurations and applications.
Product Features:
• Ideal for longer runs of up to 164 feet via a single attached power cord;
• Can be cut in the field at specified lengths and easily connected;
• Protected against dust and water ingress by an IP65 or IP67 rated waterproof cover (Determined by model);
• Offered with single or double rows of LED's (Not all models);
• Dimmable (Not all models); and
• Can be used with Outwater's LED Ribbon Mounting Channels.
Click here for additional product information
Click here to view Outwater's 120V LED Ribbon Flex Lighting video