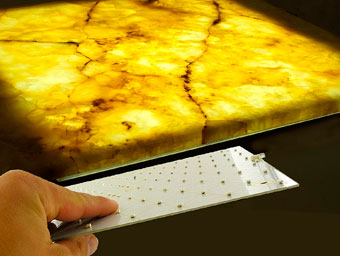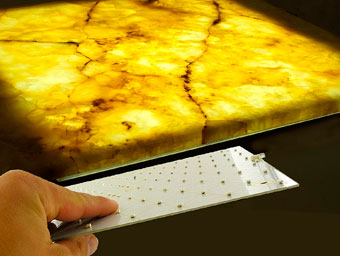 Ideally suited for use in tight applications with less than one inch of installation depth, Outwater's [Outwater Plastics Industries, Inc. + Architectural Products by Outwater, LLC] 1/16th inch thick Tri-Mod LED Backlighting Panels are a great way to uniformly backlight your graphics, posters, and promotional messages without any hot spots or uneven light dispersion in stores, restaurants, museums, and exhibit booths. In addition, Outwater's Tri-Mod LED Backlighting Panels can be readily used to illuminate all types of translucent surfaces including Onyx (pictured) or Corian® countertops and backsplashes.
Comprising recently introduced second generation LED lighting with incorporated "LED Diamond Light Technology," Outwater's Tri-Mod LED Backlighting Panels generate low heat and no UV, yet produce the purest, brightest, white LED lighting available on the market with a Color Rendering Index of 80.
Offered in six different sizes, Outwater's low-voltage, prewired Tri-Mod LED Backlighting Panels are easy to install and interconnect to one another without soldering and can be arranged in many diverse configurations to accommodate almost any type of application.
Constructed of virtually shatterproof fiberglass, each panel uses energy-efficient, dimmable SMD3528 LED Chips, and is manufactured with constant-current technology, thus allowing for an approximate life expectancy of 50,000 hours with minimal to no light degradation. Moreover, each LED chip has a beam spread of 120 degrees and provides 720 Lumens or 5,500 LUX per square foot at an installation depth of 1-1/2 inches.
When utilized with Corian® Arctic Ice, Outwater's RGB Tri-Mod LED Backlighting Panels further enable you to customize your counters and backsplashes to light up in any shade of seven different colors with the ability to remain static on any color. Outwater's RGB Tri-Mod LED Backlighting Panels can also be programmed to morph colors at variable speeds as quickly as a strobe light or as slowly as a minute and a half per color.
Tri-Mod LED Backlighting Panels Product Summary:
Uniformly illuminates without any hot spots or uneven light dispersion
Less than one-inch of installation depth required
Virtually shatterproof fiberglass construction
Rated for 50,000 hours usage with minimal to no light degradation
Available in programmable RGB
Comes with a three-year warranty