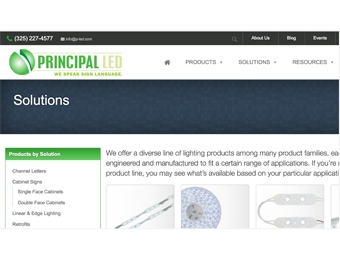 Principal LED is inviting visitors to explore its freshly redesigned Web site at www.p-led.com. The new Web site has been made-over to provide expanded product spec availability, powerful tools and calculators, improved navigation, and expanded news and resources. Newcomers will enjoy a modern interface with improved navigation throughout and expanded accessibility to information.
"We believe our customers will appreciate the expanded product pages, search functionality, and new resources," said Jessica Pirkle, Principal LED VP of Marketing. "We have revamped many of our core website functions including our Where to Buy, News/Blog, Products, and Solutions pages. Many exciting resources are available as well including an Easy Online Layout Builder, Online ROI Calculator, and Online Energy Savings Calculator. There are also pages to view our helpful videos and learn about our educational P-LED Academy resources."
Products now have more robust information including specifications, recommended coverage charts, and new product photos. The updated product page layout also includes easy-to-download datasheets, installation guides, ordering guides, or other useful PDFs. All of the products are easily accessible and effortless to browse for.
"Our mission is to 'Simplify the Lives of our Customers,' and this Web site helps to do just that," said Bryan Vincent, Principal LED Partner. "With improved navigation, expanded resources, and in-depth product information, we hope to make finding the information our customer's need easy and efficient."
Visitors can sign up on the website for the Principal LED mailing list to stay up-to-date with news of the company, contests, promotions, webinars, and product announcement.
Visit www.p-led.com to see a fresh face for Principal LED. We would love your feedback on Facebook, Twitter, and Instagram.