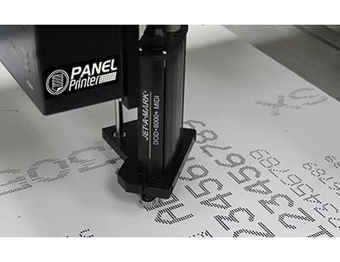 The aluminum composite market (ACM) is starting 2016 with a bang. Thanks to the enhanced solutions offered by AXYZ International, a leader in CNC router manufacturing, AXYZ is launching a new version of its PANELBuilder software along with a new optional printing device called PanelPrinter.
PANELBuilder 16 combines an advanced, easy-to-use software solution with a custom machine design that enables customers to process ACM materials faster, more consistently, and at a lower cost than ever before. With this system, customers can design, nest and program machine panels in one seamless operation.
"What we offer is a full solution. Customers need a mechanism to create the files for the machine, the tooling needed to cut the panel and the machine to do it on," said Product Manager Noel Archie. "To make all that come together and work effectively and efficiently, we provide the training, the support, and the complete solution to give customers what they actually need."
PANELBuilder 16 includes a host of new features specifically that make the software easier to use and improve management information and reporting, resulting in a more productive process. These improvements include:
* Upgraded user interface
* One-click setup for pendulum processing
* Enhanced rectangular nesting algorithm
* New program simulation mode
* Multi-panel DXF import
* Windows 10 support.
Additionally AXYZ is introducing PanelPrinter, the fastest and most accurate method of printing part identification data onto individual parts.
"Currently, when a panel is cut, the name of that panel needs to be written on the panel so others know where to place it on the building or what to add to it during fabrication. PanelPrinter automatically prints this information on the panel. This time saving feature reduces errors," said Archie. Other important information can be printed on the panel including the cutting date, the name of the job, and a bar code that can be used for transmitting additional information to the system.
"Our PANELBuilder is continuously evolving based on customer input. Our object is to provide our customers with the answers that work for them to produce the parts they require."
Both PANELBuilder 16 software and the PanelPrinter are available now. Contact your local AXYZ office for more information on these new features.
For more information, visit www.axyz.com.