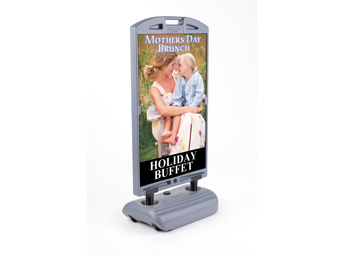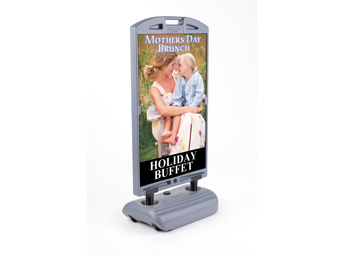 PavementSigns brings customers yet another restaurant and business signage solution. This new portable pavement sign is engineered for outdoor use and is commonly found near the entrances of food establishments, retail stores, and service locations. Each of the sidewalk displays is outfitted with durable construction and rolling wheels, so relocating the unit within high traffic areas is a snap. Users frequently convey messages regarding sale events, daily menu specials, newly added services, and other important announcements. Other times, businesses indicate valet parking or availability. No matter what information is exhibited, it will definitely get noticed as a result of the towering design, which stands over five feet high. Even though the sandwich board is large, it can be wheeled inside at the end of the day to avoid vandalism and theft.
"The pavement sign features wheels on one side of the base that allow it to tip and roll easily," explains Sandra Reno, a new product analyst at PavementSigns.com. "Once in position, the pedestal can be filled with water or sand to ensure signage is stabilized."
This pavement sign fits up to (2) 28″ x 44″ inserts back to back. This way, bi-directional advertisements can be created quickly and painlessly. While many sandwich boards have clear lenses, this unit is geared for use with waterproof signage panels that can also be purchased online. The advantage of these materials is that they last longer and are able to be swapped out fast. A series of retaining tabs keeps paneling in place yet allows for straightforward updates. The rugged plastic layout is weather resistant and will endure years of outdoor use.
"Another helpful feature of this pavement sign is the spring-loaded framing," continues Reno. "When the wind kicks up, the innovative design displaces gusts to make sure messages do not tip over."
PavementSigns is truly the sidewalk signage emporium with hundreds of models to choose from. Every design is showcased in the web catalog, so shoppers are able to locate practical solutions without wasting valuable time. The comprehensive website, low prices, and quality customer service have gotten the attention of DisplayShops.com—an online directory that rates display companies. PavementSigns.com has received a top-tier rating from the site, so stop by the catalog to see for yourself!