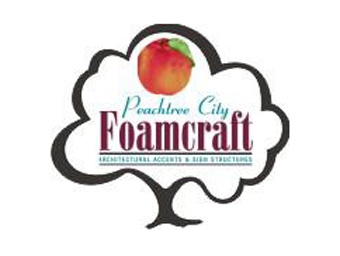 Peachtree City Foamcraft, a national wholesale manufacturer of monument signs, has partnered with Matthews Paint to provide their Standard and Satin MAP Product for Peachtree's HDU (High Density Urethane) sign panels. Peachtree offers sixty pre-designed HDU sign panel shapes but has the creative ability to manufacture unlimited custom designs.
Matthews Acrylic Polyurethane (MAP) line of paints provides excellent ultraviolet and chemical weather protection for Peachtree City Foamcraft's HDU sign panels.
With top quality grade pigments, the Matthews paint system will provide added exterior durability and beauty to their panels. Peachtree City Foamcraft's HDU panels resist moisture, rot, termites, chemicals, and harsh environments. Their inability to crack, split, or warp makes them an extraordinarily durable signage choice.
Additionally, since HDU is a synthetic product, panels have the ability to mill easily and are more dimensionally stable. This mutually beneficial partnership will provide for a combined spectacular, reliable, and durable product.
HDU Panels are available in thicknesses ranging from one to three inches with three different textures to choose from: routed v-carve profile, a wood grain appearance, or a simulated sandblasted appearance. All panels will be finished with the Matthews MAP or Satin MAP paint system, available in custom mixed or stock colors.
To learn more about Peachtree City Foamcraft or to find a local distributor, call 877/862-0840 or visit www.foamcraft.info.