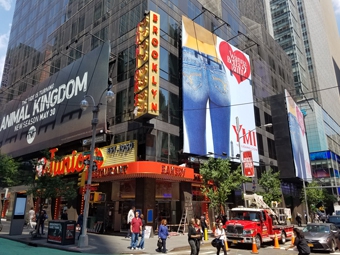 Founded in 2004, Building Brothers, Inc. is a top sign permit expediter in New York City.
The company has worked on many iconic New York City signage projects, including Yankee Stadium and the Comcast Building.
President Sam Pruyn says the company has "the history, the knowledge, the expertise, and the systems in place to handle any project, no matter the size or scope."
Based on his knowledge, Pruyn shared the top three challenges to securing a sign permit:
1. Size: "The number one reason [a shop doesn't secure a permit] would be that they want to install a sign that's larger than the sign restrictions for a particular zone," he says.
2. Landmarks: If the specific process and requirements for landmark buildings aren't followed, the sign permit won't be approved.
3. Illumination: Not an uncommon issue to the sign industry, those shops looking to put up an illuminated sign in a non-illuminated zone will find themselves without a permit.
Aside from these three challenges, Pruyn says issues in the permitting process also occur at locations under the jurisdiction of an entity other than the city—such as the Loft Board or the Port Authority—since they have a distinct process for securing sign permits.
The Loft Board and Port Authority may be specific to New York City, but the issues can occur anywhere. "Most townships obviously have their own codes, and they all have their unique restrictions," says Pruyn.
Sign shops should also be aware of the challenges in securing permits for multiple signs. "Good coordination and good communication becomes optimal because there's going to be a large influx of locations at one time, and tracking all of those individually and as a group can present its own challenges," says Pruyn. "Luckily we have good systems in place to provide some unique services to our customers in that regard."
So just how can your shop avoid all of these permitting pitfalls? "Good due diligence at the outset before the project is too far along," says Pruyn.
Partnering with a sign permit expediter in your local area is another solution. "We leverage the fact that we're in this process and have boots on the ground every single day," says Pruyn. "We provide services, such as code checks, so that our customers can have an idea of what's allowed at a particular site before they even commit to something with their customer.
"Partnering with us allows them to focus on those other issues related to the manufacturing and installation timetable, and we can help ease the burden of the permits and the municipal requirements."
To find a sign permit expediter in your area, Pruyn recommends turning to sign associations for recommendations, getting a reference from other sign companies or manufacturers in your area, or simply doing an online search.
By Ashley Bray
Photo: Installer Paul Signs; Permit Expediter Building Brothers, Inc.