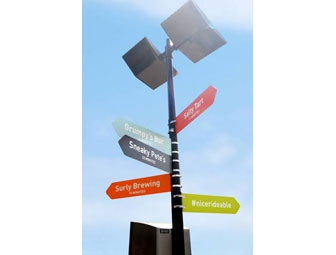 If you want to know the secret weapon that helped make the Twin Cities the only U.S. city in 2015 to rank in a ​Top 20 worldwide bike index of the most bike-friendly, bike worthy metroplexes, follow the signs to Persuasion Arts & Sciences (PAS). The Minneapolis-based Creative Brand Consultancy has helped put the far north bike mecca on the global map with its creative campaigns for Nice Ride Minnesota.
The agency of record for Nice Ride Minnesota since 2012, Persuasion's new​​ #nicerideable campaign features a new Nice Ride Signage program in both Minneapolis-St. Paul that will clue you in to a number of destinations that show riders how easy and fun it is to get around in the Twin Cities on two wheels.
Supported with new kiosks and posters, the wayfinding sign system is accompanied by an outdoor campaign outlining the many reasons Minneapolis and Saint Paul are so "nicerideable." For example "People wave," "It's flat," and of course "Mountain lions are gone." The new signage system is located in select clusters at Nice Ride bike stations across both cities. The signs cleverly spell out the minutes it will take to pedal there — versus the miles to travel — with intriguing collections of destinations, some well-known and some that are more puzzling (see sign group examples below).
In the past, Persuasion has leveraged the Minnesota Nice Ride brand and the state's challenging climate as a highly unlikely biking transit hub with appropriate campaigns like the 2012 Nice Ride bike frozen in ice (it finally thawed with spring). In 2013, it featured blazing bus signs that played off the horrible Polar Vortex winter of that year with sunnier banners proclaiming the "Solar Vortex," which thankfully followed.
New Assignment Builds on Nice Ride's Convenient Access to Cool Locations by Bike
The spiffy signposts set at Nice Ride stations — usually indicating 4-to-6 destinations per bunch — are creatively, cleverly coined for places where you can drink craft, caffeinated, and other beverages, eat sushi and other ethnic foods, or even visit some of the cities most haunted buildings like the Van Dusen Mansion, or City Hall (Minneapolis) — and some of the area's now notoriously "Extinct" landmarks (Metrodome, Glam Slam, Nye's, 400 Club).
"This is an attempt to re-orient people's mental maps of the city. We're showing all the great places that can be visited by Nice Ride bike, and how close those destinations are," notes Persuasion co-founder Dion Hughes. "Collecting the destinations into themes gives the campaign another level of engagement. Some themes are obvious, but some are deliberate puzzlers. We hope people enjoy playing the game, and even coming up with their own #nicerideable suggestions."
There are twenty-four themed groups total and ninety-seven new signs on the system with edgy group signage markers like these:
Gangster (famous buildings associated with mobsters like the Hamm Building and The Commodore)
Movie Locations (First Avenue, 331 Club, others)
Sound Effects (Snap Fitness, Smack Shack, others)
The University of Minnesota Subculture that is fairly instructive and includes Mill Hell, the Nap Room, Witches Hat and more!
"We think the public and new and regular users of Nice Ride Minnesota will appreciate the creativity and sense of humor that went into the new signage system created by Persuasion Arts & Sciences," says Bill Dossett, Executive Director of Nice Ride Minnesota. "The new signs re-enforce just how bike-able the Twin Cities really are. The destinations mapped out will be familiar to most, but for visitors, some of the names will be puzzles that only the locals will get. It's definitely a fun and valuable new asset for the Minnesota Nice Ride brand!"