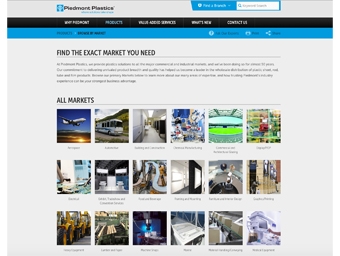 Piedmont Plastics, an industry leader in the wholesale distribution of plastic sheet, rod, tube, and film, is pleased to unveil the launch of its new Web site: www.piedmontplastics.com. The new site details Piedmont's wide range of plastic sheet, rod, tube, and film products and is a resource rich in application, market, and product content. Its comprehensive interface tool allows users to cross-reference products, applications, and markets to quickly access information and solutions.
The new Web site's user-friendly, responsive design is easy to use across mobile, tablet, and computer interfaces.
Its streamlined design offers simple navigation and easy-to-find product solutions. The enhanced "Interface Tool" details Piedmont's product breadth and depth. The "Value-Added" section details the many services available to Piedmont customers. The Web site's enhanced "Blog" function showcases Piedmont's latest events, recognitions, upcoming events, and other newsworthy product content.
Make sure to click or swipe your way through the new Web site today at www.piedmontplastics.com.
In addition to capturing an ongoing snapshot of the breadth and depth of our solutions, the new Web site offers the following features:
* Clean, Modern Design
* Easy to Use Navigation
* Improved Search Options
* Markets, Applications, Products Tool (MAP)
* Responsive Design Across Devices
* Many New Features and Upgrades
* Mobile Friendly
* And Much More!
For more information please contact Kristen Riggs at [email protected].