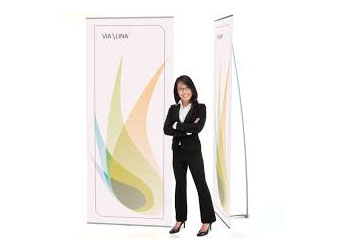 Looking to share its nearly twenty years of experience — and expertise — in the portable display industry with an even larger market, PosterGarden has launched a wholesale business that offers PosterGarden-branded displays as well as a new line of high-quality, unbranded banner stands and popup displays to qualified dealers.
"We have always been committed to the highest quality products, and nothing but the best bears the PosterGarden name," said Michael Rigby, vice president of Operations for PosterGarden. "We're now at a place where we can make our high-quality displays available to more markets through a qualified dealer network. It's a great step for us."
Long a leader in the portable display industry, PosterGarden carries a full line of top-tier displays, including banner stands, popup displays, and tensioned fabric displays, all of which feature the company's well-known branding elements. The VIA line provides the same kind of high-quality displays that PosterGarden has become known for in an unbranded style. All displays are available with or without graphics.
Displays in the VIA line include:
VIA\Raza — A simple, retractable banner stand ideal for a retail setting.
VIA\Vecta — A stronger, sturdier retractable banner stand for retail or tradeshow settings.
VIA\Supera — An adjustable banner stand with graphics that users can replace on their own.
VIA\Lina — A lightweight banner stand with vibrant graphics and little visible hardware.
VIA\Tria — A fully adjustable banner stand with a folding tripod base for stability.
VIA\Kontura — An easy-to-set-up popup display available in straight or curved styles.
VIA\Panora — A stylish and sturdy top-of-the-line popup with graphic options and a podium case.

Dealers who qualify for PosterGarden's wholesale program will need to have a marketing presence in the form of a physical showroom or an online sales outlet for display products. PosterGarden project managers can work with potential dealers on all of the requirements for qualifications.

"Launching a wholesale business along with an entirely new line of portable displays is really taking PosterGarden to another level," Rigby said. "We've built a reputation for quality, customer service, and innovation over the past 17 years. To be able to share that with an even wider market is something we're really excited about."

For more information about the VIA line, visit http://www.postergarden.com/via.