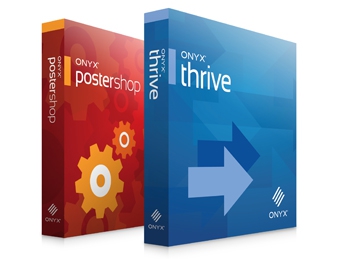 At the upcoming ISA International Sign Expo, visitors to the Onyx Graphics booth 2375 can experience the award-winning ONYX 12.1 software, as well as preview the upcoming ONYX 12.2 version. Additionally, ISA attendees will get a first-look opportunity at ONYX SiteSolutions; a portfolio of products focused on bringing business and production together in wide-format and grand-format print environments. The International Sign Expo will be held April 20-22 in Las Vegas.
ONYX 12.1 software won the ISA Sign Expo 2017 Innovation Award in the Business Solutions and Software Category. The awards are designed to recognize and honor the leaders in the sign, graphics and visual communications industry for creating new and innovative products. ONYX 12.1 software features accelerated speed and performance, a simplified user interface, enhanced automation, and advanced finishing tools to do more in less time.
Onyx Graphics recognizes that modern print shops need solutions that will increase their production and revenue, lower their costs, and increase shop efficiency in order to compete. ONYX SiteSolutions is a portfolio of products that take a unique approach to giving business owners accurate information about their print jobs, costs and productivity across their entire site. ONYX SiteSolutions address the areas of print production, connected workflows, and leveraging data to make business decisions.
Onyx Graphics will be previewing ONYX SiteSolutions at the Expo. Visitors are encouraged to stop by the Onyx Graphics booth to learn more about this unique approach to bringing business and production together.
ONYX 12.2 software will be released for ONYX Thrive, ONYX ProductionHouse, ONYX PosterShop and ONYX RIPCenter RIP software packages. Key features of ONYX 12.2 software are:
* As with version 12.1, ONYX 12.2 software process more files in less time with a full 64-bit platform for RIP and applications, with speeds that can improve a service provider's profit margin by as much as 30 percent. On average, processing times in ONYX 12.2 software are three times faster than ONYX 12 software for halftone processing. Data transfer speeds to many grand format printers are also up to three times faster.
* An all-new multi-roll user interface that delivers an interactive workflow with greater flexibility and automation capabilities.
* Enhanced media and page size handling to streamline printer configurations and job setup.
* A custom device experience based on bi-directional data including easily visible ink levels, printer status and media information.
* Full support for the Konica Minolta Autoscan Spectrophotometer FD-9 color device, touting fast and flexible fully automated chart reading to improve print workflow and productivity, specially designed for color management and large industrial print shops.
Onyx 12.2 software is expected to be available in late May 2017.
Onyx Graphics proudly supports the widest range of industry leading printers and manufacturers. In addition to the Onyx Graphics booth, ONYX 12.1 software will be driving printers in numerous partner booths around the show, some of which include:
* Canon Solutions America, Inc. (Booth #2068)
* CET Color (Booth #5992)
* Epson America, Inc. (Booth #724)
* HP (Booth #2132)
* OKI Data Americas (Booth #1368)
* Vanguard Digital Printing Systems (Booth #111)
For more information, visit www.onyxgfx.com.