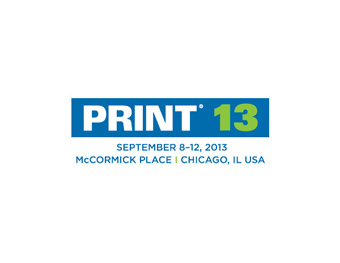 PRINT 13 together with co-located CPP EXPO, coming September 8-12 to Chicago's McCormick Place, will offer graphic communications professionals an exciting view of future technologies, and new business-building opportunities in step with the show's "Innovate, Integrate, and Communicate" theme. Among the hottest new and emerging print technologies they will discover will be RFID, Printed Electronics, and 3-D Printing.
Featured on the PRINT 13 show floor inside the Future Print Pavilion, sponsored by FlexTech Alliance, will be the "Experiential Lab" where show visitors can get up close and personal to examine and learn more about key emerging technologies. In addition, PRINT 13 will offer a specialized Future Print seminar track.
Among the educational offerings are:
+ "The Future of Print," by Industry "Guru" Frank Romano;
+ "Printed Electronics/Functional Imaging: Advanced Workflow and Printing Techniques," by Cal Poly's Colleen Twomey;
+ "Printed Electronics: How to Implement Your Next Profit Opportunity," by Cal Poly's Xiaoying Rong;
+ "3-D Printing for the Commercial Printer," by Julie Shaffer of Printing Industries of America; and,
+ "21st Century Print Technologies Explored," by Industry Consultant Steven Schnoll.
These sessions and programs are among the more than sixty co-located events and seventy educational sessions being held during PRINT 13. These events, workshops, users' groups, conferences and more include offerings geared to each of twelve individual segments of the graphic communications industry.
"Printing technologies and opportunities are always changing and expanding," says GASC President Ralph Nappi. "Today's graphic communications professionals use technologies that were unheard of ten or twenty years ago. Attendees at PRINT 13 will be able to explore new and emerging technologies that one day will be seen as routine profit centers."
Attendees at PRINT 13 also will find a host of new and exciting show floor attractions. Among the new and newly "re-imagined" show floor attractions will be:
+ Deliver – The NEW Mailing & Fulfillment Center, sponsored by United States Postal Service (USPS) and Association of Marketing Service Providers (AMSP) [formerly MFSA];
+ Photo Finish – The Photo Imaging Pavilion and Photo Imaging International Business Forum, sponsored by Photo Imaging News and SPI Convention & Shoot-Out;
+ Sidelines – The Expanded Revenue Streams Pavilion, sponsored by Print + Promo Magazine; and
+ BIG – The NEW Wide Format Pavilion, sponsored by the International Sign Association (ISA).
These innovative new show floor attractions join familiar favorites—including the popular Marketing Pavilion, sponsored by the Chicago American Marketing Association and Canvas Magazine, plus seven other special interest sections:
+ News Print—the newspaper pavilion, sponsored by News & Tech;
+ The In-Plant Place—a dedicated networking hub exclusively for In-Plant pros from every industry segment—Government, Corporate and Education—sponsored by IPMA;
+ GREENspace—a showcase of eco-friendly products and services;
+ The Prepress/Software: Workflow & Design and Press/Finishing sections;
+ The Printerverse, sponsored by PrintMediaCentr; and
+ Education Main Street.
For more information and to register for PRINT 13, visit www.print2013.com.