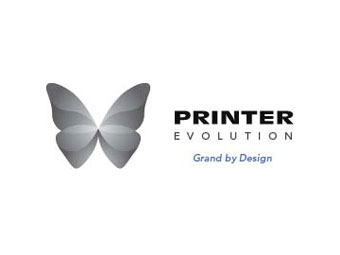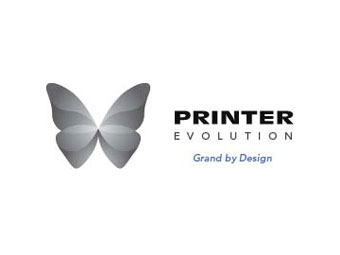 Four months after
PrinterEvolution
introduced the Evo33 Series of after market performance upgrades for grand format printers, the company is going to market with a stronger, environmental message and proven success from print shop owners.
"This is a cutting-edge eco-printing concept with a totally recycled printer," said Greg Lamb,
CEO and co-founder of PrinterEvolution. "We take the old chassis of the VUTEk 3360 or 2360 and
update it with new technology and eco-friendly inks. The speed, resolution, and quality compete with the most high-end industrial printers on the market without the enormous mining, manufacturing,
transportation, and other costs and energy outputs required in new manufacturing." The old parts that
have been removed also get recycled by being resold into the market through Global Garage, the
leading online reseller of grand format parts and supplies, completing the cycle of sustainability.
In addition, PrinterEvolution has made remarkable progress in ink efficiencies by converting the
antiquated ink delivery system on the VUTEk printers to advanced greyscale versa drop printers.
"We've been performing tests of our greyscale versa drop head ink usage compared to the more standard binary droplets and light inks," Lamb said. "Preliminary results show total ink usage for the Evo33 printer compared to competitors uses significantly less ink, and in many cases the quality will be better due to smaller variable sized droplets. Furthermore, the Evo33 is paired with the Caldera Grand RIP+, which reduces ink consumption at an average of 20% with its Ink Performer feature. Overall we estimate we're using an average of 50% less ink than competitors. We are the only 10ft. printer that provides this kind of performance and cost of ownership ratio."
Lamb maintains that being more environmentally focused can increase opportunities as well as
reduce costs. It can help a business owner increase profits and attract more customers, as green printing is becoming a more important factor for selecting print service providers and products.
The upgrades on the Evo33 and Evo33-U are designed to bring the chassis to specs that outperform the most expensive industrial printers on the market today, for less than $200,000. This enables business owners to leverage their original investment and at the same time be truly "green" by running a recycled printer using a choice of eco-ink options.
Enhanced performance attributes such as the revised ink delivery system, new industrial grade
variable drop print heads, all new motion control system, new updated electronics and a new Windows 7 computer with all new interface, deliver speeds, resolutions and environmental solutions that are unprecedented. The Evo33 series runs 3 times faster and at higher quality than the current 3360, in 8- color mode, and almost 50 percent faster than the most expensive competitors when printing at equal resolution.
Both the Evo33 and Evo33-U are capable of being configured with one of two different environmentally-friendly inks. Water-based AquaSub33 dye sublimation inks are non-irritating, odorless, have low flammability and are excellent for textile printing. They can be printed direct or via transfer at everyday high quality production speeds of up to 1200 sq. ft/hr. To complete the textile workflow, PrinterEvolution can also pair a Klieverik Calendar Transfer with the Evo33 series upgrades. LoSol33 biosolvent inks, formulated especially for the Evo33 printers, have all the qualities of solvent ink but are made up of 60 percent natural, renewable materials and contain no HAP's or heavy metals.
"As grand format technology evolves to faster speeds, higher resolution, flexible ink options, and an eco-printing mentality, we offer business owners another option to making huge investments. Our products have higher and better performance attributes at less cost, more efficiencies and reduced waste."
The Evo33 series also offers state-of-the art support. "Smart Site," PrinterEvolution's unique iPadbased training and support system, provides a trouble-shooting wizard that navigates from issue to symptom to causes and solutions with videos and photos to assist. The camera on the iPad allows
customers to stream issues directly and if that doesn't solve the problem, then a trained technician is
sent to the site. The iPad also has a custom storefront for ordering products and supplies.
All PrinterEvolution products are American-made and exclusively distributed in the U.S. by Louisville-based Global Imaging, whose principals, Tara and Greg Lamb are the original founders of
Global Imaging and Global Garage.
"PrinterEvolution is a game-changer, an innovation that is part of a larger effort and commitment
in our industry to sustainable, greener business practices. Some of the world's leading brands are paving the way to green printing and looking for companies who use environmentally friendly products," Lamb said. "Providing customers with the choice to upgrade their current printer to an eco-printer at a reasonable cost and still exceed performance standards, is another step in our effort to meet their needs and the growing demand of a greener, more sustainable grand format marketplace."