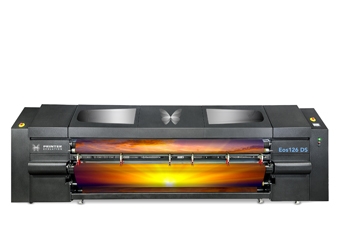 PrinterEvolution, the Colorado-based wide and grand format printer manufacturer, will introduce its new Eos Series of industrial digital textile printers at ISA.
Based on its latest Neo Series of commercial textile printers that features an on-board sublimation unit, the Eos line is a complete, industrial soft signage printing solution for high-end printers. The 3.2m printer is designed for high-volume production with state-of-the-art technology and precision media handling components that ensure superb image quality and rich, saturated color.
Like the Neo printers, the Eos126 DS on-board fixation unit is a true calendar, utilizing even heat and pressure. The image quality is excellent with rich blacks, heavy pigment load, and superior GreyScale tones. It also utilizes a cork roller that allows users to print on stretchable fabrics like Lycra, spandex and other sports textiles. Additionally, it uses a smart trough and sponge system that allows users to print on open-weave products like mesh and flag without marking the back with "blow-by" ink.
The Eos126 DS is a true production machine built for the heavy-duty fabric producer. It is a highly productive and durable direct to fabric printer with built-in efficiencies like an optional in-line cutting system and automatic turn-off control which will finish the curing and shut off the calendar automatically when the printer is unattended. The in-line cutting system uses cold knife technology that speeds up the finishing process with sharp, precise cuts. The Eos also offers a high capacity bulk ink system for continuous printing and high ink yields. It is available in two configurations; an 8 printhead or 12 printheads, depending on the users needs.
"We're excited to bring this product to market because the industry will now have a 24/7 direct to fabric production unit in a complete, fully integrated and efficient printing system. There's no need for a separate calendar or heat press, there's the option of in-line cutting and a variety of printhead configurations that combined, produce beautiful images and high volume output," said Greg Lamb, founder of PrinterEvolution.
The introduction of the Eos126 DS industrial textile printer series provides a much-needed solution for industrial digital textile printing and is the latest in PrinterEvolution's continued effort to bring innovation to all areas of wide and grand format printing. With cutting-edge design and reliability these performance-driven printers are at the forefront of efficiency and technology that is fueling the growth of this market segment today.