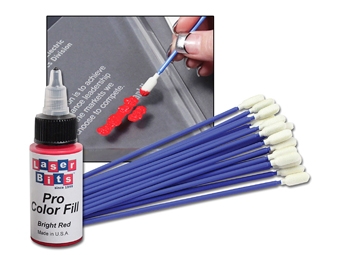 Add a professional look to your laser projects with Pro Color Fill products. Formulated for optimum results with laser-engraved substrates, each Pro Color Fill color contains a special polymer to eliminate bleeding into wood grain and staying put in plastic and acrylic. Applicator Swabs make the job of adding color to detailed laser engraving a breeze and can be washed and reused.
Available in twelve colors—including Gold, Silver, and Pink—Pro Color Fill products add value and pop to laser-engraved projects.
Find these products, along with Tech Tip information, at www.laserbits.com.