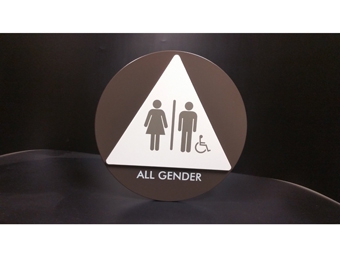 Scottsdale, Arizona-based Kroy Sign Systems is responding to unprecedented demand for restroom signage, as new legislation became effective (March 2017) requiring all single-occupancy restrooms in the state of California to be open to all genders. This progressive restroom access legislation—Assembly Bill 1732—took effect March 1 and requires all businesses, government buildings, and places of public accommodation to make single user restrooms available to all everyone.
Ed Hunter, president of Kroy Sign Systems, commented, "Compliance with the bill is a matter of changing a sign on a restroom door! It's exciting to our industry as signs are our world. People outside the supply chain aren't conscious of signs that identify, direct and inform.
"Now, restroom signage is symbolic of major reform, expanded access and a progressive society. That's potentially game-changing for our sector."
He added, "As a long-time manufacturer of architectural and ADA sign solutions to facilities throughout the United States, we are in a unique position to be able to monitor the response to this legislation as it sweeps across the country. Since California passed legislation, we've seen other states—notably, Texas—adopt the policy. We expect more to follow."
The specifics of AB 1732 state that all single-user toilet facilities in any business establishment, place of public accommodation, or state or local government agency be identified as all-gender toilet facilities by signage that complies with Title 24 of the California Code of Regulations, and designated for use by no more than one occupant at a time or for family or assisted use. For clarity, a "single-user toilet facility" means a toilet facility with no more than one water closet and one urinal with a locking mechanism controlled by the user.
Hunter said, "When this legislation was announced we saw an immediate response from a major automotive parts reseller, several large restaurant chains and industrial catalogers looking for signage solutions. There is a healthy demand for the new-look signs incorporating a circle [symbolizing women] and triangle [men] that are now displayed on top of each other indicating all-gender use."
However, while Kroy Sign Systems is responding to the clamber for conformity, Hunter anticipates that prospective business owners and facility managers across the USA will see AB 1732 as an opportunity to revisit their restroom policies to maximize capacity, improve restroom environments and respond to widespread support for the initiative.
He concluded, "I'm supportive of the all-gender concept from a personal standpoint. I believe it will generally be well received. How many times have you seen a long line-up at male and/or female restrooms at entertainment and sporting events, for example, where the cause is simply restricted access and segregation? The playing field has finally been leveled with equal restroom access!"
Established in 1983, Kroy provides architectural and ADA sign solutions to varied establishments. Through a network of loyal localized dealers, resellers and distributors, it continues to manufacture and distribute way-finding sign systems to hospital and healthcare facilities; government agencies; college and university campuses; and Fortune 500 companies.
For more information visit www.kroysignsystems.com.