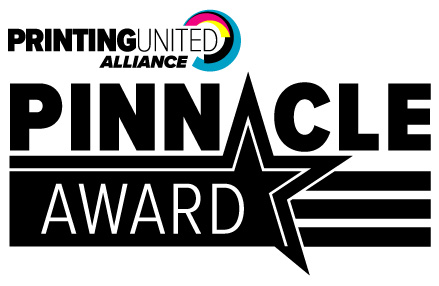 PRINTING United Alliance introduces the Pinnacle Awards, a robust, unified awards program established to recognize the best of the best in products created for and by the printing industry.
The Pinnacle Awards program encompasses the Pinnacle InterTech Awards and the Pinnacle Product Awards (formerly the SGIA Product of the Year award). The Pinnacle Awards are open exclusively to PRINTING United Alliance supplier members. More information can be found on the new Pinnacle Awards website, where entries can be submitted through July 31, 2021.
Longstanding Awards History
With the merging of SGIA and Printing Industries of America (PIA), the opportunities to award outstanding products, equipment, and software have swelled. For over fourteen years, the prestigious Product of the Year award has recognized outstanding member products and technology. Though its name has changed, the Pinnacle Product Awards remain the same, based on excellent performance and imaging across dozens of categories.
The Pinnacle InterTech Awards, bestowed upon new technologies judged as truly innovative and likely to have a significant impact on printing and graphics companies, were previously named the InterTech Technology Awards program, which has recognized more than 300 technologies since 1978.
"We're thrilled to launch the Pinnacle Awards to spotlight suppliers in the printing industry who are constantly developing new—and refining existing—products to create innovative solutions to streamline production efficiency and improve product quality," says Ray Weiss, director of digital print programs, PRINTING United Alliance. "The Pinnacle Product Awards recognize the best of the best in existing products and solutions while the Pinnacle InterTech Awards highlight revolutionary, never-before-seen advancements in the industry."
How to Enter
Entries can be submitted for consideration by the independent panels of distinguished judges via the new Pinnacle Awards website through July 31, 2021. Entrants must be PRINTING United Alliance members.
—Press Release