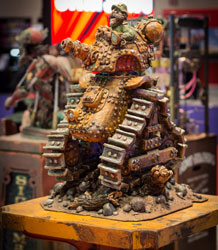 Attendees at last April's ISA International Sign Expo in Orlando had the opportunity to see art and dimension come to life. The Sign Invitational contest—created by James Dawson, owner/creative director of Synergy Sign & Graphics in Strasburg, Ohio—allowed attendees to view and vote on a number of dimensional signs in an effort to showcase the most creative sign makers in the industry.
Dawson started his shop ten years ago working with small vinyl decals and wraps. He has built up the sculpted dimensional sign aspect of his business by purchasing a MultiCam 1000 Series CNC router and attending some of Imagination Corporation Owner Dan Sawatzky's famed Sign Magic classes. Thanks to his creative endeavors in sculpted signs and monuments, he became very good friends with Sawatzky.
Dawson was very eager to start a big contest that would showcase the artistry and creativity that this industry can produce. He approached Sawatzky with the idea and together they napkin-sketched plans to find twenty-five of the best dimensional sign makers and invite them to enter a contest.
Sawatzky knew a lot of possible entrants from his classes, and Dawson knew some from his travels around the country. They even pinpointed some talented artisans that had been featured in the sign magazines. "As you can imagine, getting creative sign makers together was a lot like trying to herd cats," laughs Dawson. "We really wanted to get twelve to fourteen entries so we figured we'd invite twenty-five—five wouldn't be able to come, five would drop out."
In addition to Sawatzky and Dawson, other entrants in this inaugural contest were: Noella Cotnam (Sign It/Farm Signs); Roger Cox (House of Signs); Manfred Didier (Timber Signs OHG); Doug Haffner (Haffners Fantastic Creations); Nick Hansen (Hansen Signs); Jeff Hartman (Artistic Automation); Stephen Hoey (KDF); Peter Poanessa (Keene Signworx); Tony Rose (Xpressive GraphiX); Peter Sawatzky (Imagination Corporation); Phil and Jeremy VanderKraats (Signs By Van); and JD Winters (Jpro Studios).
Dawson and Sawatzky developed a cohesive theme and build envelope and gave invitees six weeks to decide if they wanted to be in or not.
The theme of the 2016 Sign Invitational was cartoonist Rube Goldberg, famous for his detailed, perpetual motion cartoon illustrations.
"I have an engineering background and always enjoyed his comics," says Dawson. "I always love the inventor making an impossible invention that you don't really need.
"So I said if we're going to do signs and constraints, let's do Rube Goldberg, and Dan thought it was perfect."
Entrants could invent anything they wanted as long as it followed a Rube Goldberg theme and were allowed to be as loose with that theme as they wanted.
However there were some constraints. The build envelope had to be two-foot-by-two-foot-by-six-foot, and the display had to be placed on a pedestal.
"We wanted people to be creative within the size constraints we gave them instead of people being able to go really big at the sign and throw money at it," says Dawson. "Size constraints make everybody get real creative with how they build the sign."
The rules were that the top of the display had to fit inside the bottom. So if you did a two-foot-by-two-foot-by-three-foot top, it had to fit inside your two-foot-by-two-foot-by-three-foot base.
"We did that so everybody could fit their sculpts inside a base for shipping purposes and not have to figure out how they were going to ship their big sculptures to the show," says Dawson.
The contest was set up at MultiCam's booth. (Note: MultiCam was one of the event's sponsors, as well as Coastal Enterprises, SAi EnRoute, and SignCraft.)
Dawson sent entrants details of the contest on November 1 and they had right up until the start of the show April 20 (as long as their shipment arrived on time) to finish their entry.
"Everything was amazing," says Dawson. "I never would've dreamed that there were that many creative ways to steer around those rules and build something to fit that theme.
"It was like every single sculpt that was there was the direct reflection of the personality of the guy who built it."
Peter Poanessa of Keene Signworx showed up with his Acme-Goldberg Autosign machine and pulled out the win after some very close results in the voting.
"One of the requirements was that we couldn't have any moving parts," says Poanessa, "so that eliminated the need to make anything truly work, which opened up a lot more creative possibilities."
The genesis behind Poanessa's entry rests with a joke in his shop about how some of his customers come in and want their custom signs quickly. "Our idea was a proprietary sign-making system featuring pipes and valves and other stuff that we had figured out," he says. "We would take your order, put raw ingredients in the top, and have the sign come out the other end of the building."
He incorporated a lot of things into the 1930s Steampunk-inspired design that are "near and dear" to his heart that he had experience with—sign parts, bicycle parts, boat parts, etc. "I used to own a micro-brewery, so we added a little beer tap on the front of the control panel," he says.
It took four months to build his Autosign entry. "It was fun to do something that was totally creative, with no customer directive or budget to deal with," he says. "It was, 'Go off and do whatever you can dream up,' which isn't something you normally encounter in a sign shop."
Thanks to the success of this year's event, Dawson and Sawatzky have already plotted out details for the second annual Sign Invitational, which will once again take place at the ISA Sign Expo next April. The show will be in Las Vegas so the theme of the build is "sign magic."
"You have to use the word "sign" or the word "magic" or both in your sculpt," says Dawson.
Even better, they're opening up the possibility for more entrants—even you!—if you can pass muster.
If interested, visit thesigninvitational.com and click the "Apply" button on the homepage. Enter your name, email address, and phone number and attach three portfolio pieces. These will all be reviewed before the invites are sent out in September.
There are no limitations to tools or substrates, and unlike this year's event, motion will be allowed for the purpose of audience interaction.
"This means that if you're going to put a hand-crank on there, the person walking up to the sculpt has to work it themselves," says Dawson. "You can't sit there and run it for them."
Voting will also change next year. In addition to ISA attendee ballots, there will be a text-to-vote option.
One thing Dawson hopes won't change in 2017 is the networking aspect of the contest.
"The best part was that we were all able to meet some of the top sign makers in the world, share ideas, and build lifelong friendships," says Dawson. "There's this whole group of awesomely creative sign sculptors. We're using routers and plasma tables and 3D printers. And the materials have changed so much.
"I think we're headed into a pretty awesome time period for the sign industry, as far as carved and sculpted signs."
By Jeff Wooten
All photos: Synergy Sign & Graphics.