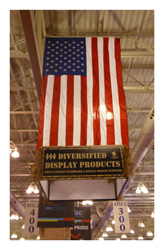 This past December, at the annual USSC Sign World International Tradeshow held at the Atlantic City Convention Center in Atlantic City, New Jersey, there was a little more than business as usual at this event. In addition to the regular selling and networking typically found at this event, exhibitor Diversified Display Products (DDP) made quite the impression and the difference with their "Give Back Initiative" fundraiser they hosted at their booth, supporting the Wounded Warriors Project.
As a tribute to the U.S Troops, DDP's exhibiting booth was set up to simulate a military camp. Complete with DDP personnel uniformed in military fatigues, the company was ready and armed to sell the leading large format printers and supplies. DDP furnished the booth with real artillery shells, camouflaged netting, sandbags, and a very large American Flag that hung proudly over the exhibit.
The company wanted to make a statement that this was not going to be a traditional tradeshow for themselves and instead create an opportunity for everyone to be part of the event.
Generous tax-deductible donations to the Wounded Warrior Project enable this organization to help thousands of injured warriors returning home from the current conflicts and to provide assistance to their families. (For more information, visit http://bit.ly/2g9qBHz.)
Diversified Display Products is one the largest stocking regional suppliers of branded rigid board substrates and digital large format printing products in the country. Located in Hillside, New Jersey, DDP warehouses a complete line of products from the industry's leading manufacturers and offers cutting-edge solutions in the inkjet print technology platforms complemented with their on-staff, certified technicians.
DDP utilized their HP, Roland, and Epson large format printers to produce combat vehicle graphics that were printed on the Diamond Digital Media at the show. The prints were made available to everyone who donated to the Wounded Warriors Project.
In addition, DDP had dye-sublimated "Limited Edition" plaques in order to add value to the contributions.
Not to be forgotten, DDP's car door wrap competition had camouflaged graphics on Avery's Cast Vinyl MPI1105. The winner with best time would win an Air Gun; but for those who were novices, they could donate to Wounded Warriors and enter the raffle to win an Air Gun Prize.
In keeping with the theme, Diversified Display Products had wanted everyone to feel a part of this tribute, so to the first 1,000 attendees entering the show, they handed out authentic dye sublimated Dog Tags with the U.S Flag printed on it.
Their "Give Back Initiative" and Military theme could be found throughout the Convention Center as well.
The USSC had invited the Color Guard to be present at the welcoming ceremonies where the Council had created a video that encompassed a clip representing each of the military branches. With each clip, any military representatives in the audience of that branch would be asked to stand and be recognized.
As part of the opening ceremonies, Diversified Display Products was honored to have received the "USSC Distinguished Service Award" for its work and efforts on the Wounded Warriors Project.
This venue and fundraiser seemed to have brought a sense of unity and brotherhood to a very diverse crowd. Donations were received from a variety people and companies at the show ranging from attendees to other Exhibitors.
"There seemed to be a deep appreciation that we were trying to give something back to such a worthy, deserving cause," says Andrew Wolf, vice president of Diversified Display Products. "When we were in the infancy stages of brainstorming this year's theme, we were inspired by all the attention our Armed Forces had been receiving, particularly during this past election year. So we wanted to keep the focus on how proud we are for all who serve and served."
When DDP decided to exhibit at Sign World with this theme and initiative, the company had no idea of the importance and impact it would have on them or others. "For us, this event has taken much more meaning than selling large format printers and supplies at a tradeshow; the experience is immeasurably larger than that," says Wolf.
Diversified Display Products would like to express our thanks to all who donated and or visited us at the USSC Sign World Tradeshow in Atlantic City, New Jersey.
The U.S. Military is the epitome of team spirit. In following that mantra, Wolf gives a special thanks to the attending DDP team for adopting this work ethic and demonstrating extraordinary efforts which they are all proud of—Lana Kondratowicz, Nuno Rodriques, Brian Smith, and Damian Warbeck.
God Bless our Armed Forces and all of America!