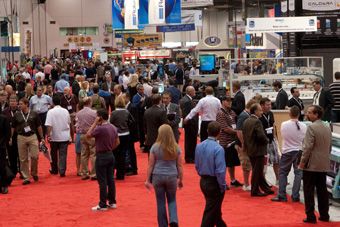 SGIA is proud to welcome ReproMAX—an international network of independent reprographic and document management companies—in addition to seven other industry-specific organizations that will be represented at the
2011 SGIA Expo
(New Orleans, October 19-21).
"ReproMAX is proud of its long-standing relationship with the SGIA," said Rick Bosworth, president of ReproMAX. "The ReproMAX international network of quality graphic service providers continues to expand its color reach. SGIA provides opportunity for advanced information, education, and technology."
The SGIA Expo offers tools and knowledge for the specialty imaging community to stay ahead of emerging industry trends. By partnering with SGIA, co-locating groups will discover the latest value-added services and technologies important for business expansion.
2011 SGIA Expo co-locators include:
ASI — Ad Specialty Institute
CMG's Annual Consortium Meeting
FASTSIGNS — Sign Franchise
PDAA — Professional Decal Application Alliance
PEiR Group — Profit and Education in Reprographics
REPROMAX — Network of Reprographic Companies
SIGNARAMA — Sign Franchise
UASG — United Application Standards Group
WRA — Western Reprographics Association