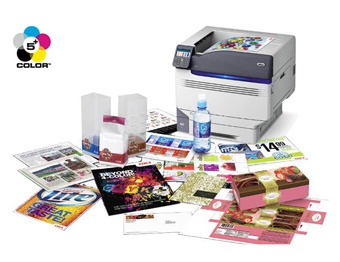 OKI Data Americas announces its participation in the AlphaGraphics® 2014 Technology Expo taking place at the Salt Palace Convention Center in Salt Lake City, UT on July 25, 2014. There in booth 226, OKI Data will be exhibiting the C941dn digital color printer—part of the company's new Multimedia Production Platform (MPP).
Optimal for expanding the capabilities of full-service print shops and the opportunity for generating new revenue-generating opportunities, the C941dn delivers fast and cost-effective full-color output on an impressive array of media. This easy-to-use LED device features cutting-edge five station technology with white and clear printing capabilities for producing marketable output.
OKI introduced the MPP category in September 2013, expanding its broad and award-winning product portfolio of LED printing devices. The Multimedia Production Platform is a series of production-quality A3 color devices including the C941dn with its five station toner configuration that supports white, clear, or spot color printing. Tradeshow attendees who visit the OKI Data booth will see how the C941dn goes far beyond the capabilities of traditional digital color printers, adding game-changing media handling that includes transparent media, magnets, banners and heavyweight cardstock.
"OKI Data Americas is excited to be exhibiting at the AlphaGraphics 2014 Technology Expo, and to debut our revolutionary new C941dn digital color printer to all attendees," said Terry Cruikshank, Senior Marketing Manager for OKI Data Americas. "OKI is proud to demonstrate this unique device's capabilities and how these capabilities can help expand the number of revenue-generating opportunities for Alpha Graphics franchisees."
The AlphaGraphics Technology Expo attracts AlphaGraphics franchisees and their staffs, and is among the highest-attended AlphaGraphics events of the year. Many franchisees see it as their primary opportunity to make equipment purchases, review software and marketing services options, learn about key sublet offerings, and more.
All OKI® products are built on parent company OKI Data Corporation's history of leadership and innovation. Most of OKI's color printing solutions feature Single Pass Color™ as well as proprietary digital LED and HD Color technologies. These technologies allow OKI to manufacture products that require fewer moving parts for increased reliability and outstanding color output quality.
OKI Data provides live1, toll-free technical support 24 hours a day, 7 days a week, 365 days a year, with agents based in North America. In addition, OKI Data live chat feature is available to customers within the US and Canada seeking online support on weekdays during normal business hours within the Eastern time zone.