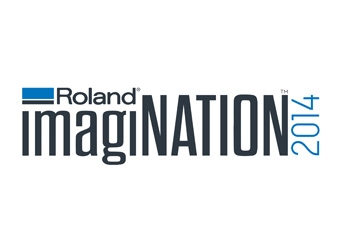 Wide format digital printing leader Roland DGA announced today it will begin accepting entries August 11 for its Creative Awards Contest, a competition designed to showcase the outstanding creative work of Roland end users. Those wishing to participate can enter, submit their project photos, and access complete contest details at the Roland DGA Facebook page.
One winner will be selected each week over a three-week period, August 11-29, with each winner receiving a free trip to Roland's first ever inkjet user conference, imagiNATION 2014 (Oct. 21, 2014 in Las Vegas), including round-trip airfare, lodging, and event registration.
Any owner of a registered Roland product is eligible to enter the competition. Winning entries will be selected by a Roland DGA judging panel, based on the project's creativity, innovation, and execution quality. Winners will be notified by e-mail, and the name of each winner will be posted at the contest Facebook page. In addition to the free trip to imagiNATION 2014, contest winners will receive promotional exposure at the Roland DGA Web site and through social media channels.
"Roland's innovative devices open up a world of creative possibilities for end users," said Roland DGA President Rick Scrimger. "We're excited about this contest, and we look forward to seeing the projects of talented individuals using our products to turn imagination into reality."
Attending imagiNATION 2014, co-located with this year's SGIA Expo in Las Vegas, will allow the three contest winners to gain valuable tips, techniques, and insights that will help them take their businesses to the next level. Featuring renowned speakers and a wide variety of educational workshops led by industry leaders, imagiNATION 2014 is designed to inform, enlighten and inspire. Any Roland inkjet user is welcome to attend the event, which will include an inspirational keynote by NASCAR racing team owner and successful entrepreneur Richard Childress, sixteen different educational sessions, and a cocktail reception.
Early bird discounts are also available for those registering by September 15. To learn more about imagiNATION 2014, or to register online, visit www.rolanddga.com/imagination.
For more information on the complete Roland product family, including the company's lineup of high quality digital printing equipment, call 800/542-2307 or visit www.rolanddga.com.