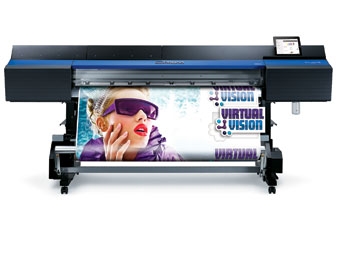 Leading wide-format inkjet manufacturer Roland DGA Corporation announced today the launch of the TrueVIS VG series 64-inch and 54-inch printer/cutters, a new generation of advanced wide-format, eco-solvent inkjet printer/cutters to be released under the TrueVIS™ brand name.
According to Andrew Oransky, Roland DGA's Vice President, Sales and Marketing, the TrueVIS brand expands Roland's technical capabilities in ink formulation, print head design, precision control, and firmware engineering. "Everything about the new TrueVIS printer/cutters has been reimagined to usher in a new era of performance, precision and efficiency," said Oransky. "In addition to delivering output of the highest quality, this enhanced functionality also ensures greater flexibility for Roland users. The addition of the TrueVIS series to our product lineup further diversifies Roland's offerings, allowing customers to choose the best possible solution and head technology for the applications they focus on and their target markets."
The TrueVIS VG series represents Roland DGA's most advanced printer/cutters ever. In designing the VG, Roland combined innovative imaging technology with unsurpassed production capability to create the ideal tool for producing vehicle graphics, banners, posters and displays, labels and decals, packaging prototypes, apparel heat transfers, and more."
TrueVIS VG series printer/cutters are equipped with four newly-developed FlexFire™ print heads, which more flexibly control the metallic plate attached to the ink chamber for a higher firing frequency. FlexFire print heads also deliver precision droplet placement in three sizes and a 25 percent wider print swath compared to previous Roland models. The combination of this new FlexFire head design and new TrueVIS INK, specially formulated for use with this print head, helps ensure outstanding graphic results. Users can expect exceptional detail and vibrant colors at a production speed of 107.6 square feet per hour in High Quality mode on vinyl and up to 374.6 square feet per hour in dual CMYK configuration*1.
The VG-640 and VG-540 also offer seven-color (CMYK plus Light Cyan, Light Magenta and Light Black) or eight-color (CMYKLcLmLk plus White*2) ink configurations. White ink provides excellent opacity for transparent window graphics, while Light Cyan, Light Magenta and Light Black offer smooth gradations, perfect skin tones and beautiful images.
New Roland VersaWorks® Dual RIP software – included with the VG – features a new core engine that accurately interprets native PDFs as well as legacy PostScript files, including files with transparencies. The precision cutting mechanism of the VG-640/540 is adopted from Roland's latest cutting advancements, facilitating reliable contour cutting of complex designs and expanding the range of possible applications such as cutting thick materials for laminated floor signs.
The VG-640 and 540 also offer unparalleled ease of use and convenience. A newly-developed Roland DG MobilePanel allows users to perform control panel functions with their existing smartphones or tablets with iOS or Android operating systems using a Bluetooth connection. This innovative new feature allows users remotely in range of their VG printer/cutters to receive machine status updates, make adjustments and conduct test printing and cleaning functions from their mobile device. In addition, new LED lights inside the printer make it easier to check printing status and perform maintenance work, while also as providing color-coded operation updates.
The TrueVIS series provides not only outstanding image quality and productivity, but also a new level of reliability and economy. "The VG is uniquely engineered to deliver stunning prints, while minimizing both ink consumption and electricity usage, potentially saving the user tens of thousands of dollars over the life of the printer," explained Oransky.
Oransky points out that Roland introduced its first eco-solvent wide-format printers and printer/cutters more than 10 years ago, and they continue to be the number one choice for durable graphics worldwide. "As a global leader in wide-format digital printing technology, we recognize the need to continue moving the market forward, which is what sparked the development of the new TrueVIS series," he said.
"The brand concept behind TrueVIS comes from the word 'VIS,' which means 'powerful' in Latin," noted Oransky. "That relates to how these innovative inkjets empower users to bring their VISION to life. " provide the precision and power needed to bring each user's vision to life. We're confident that the next-generation capabilities of TrueVIS printer/cutters, combined with Roland's renowned customer service and support, will enable our customers to take their businesses to new heights."
*1 For the VG-640 in dual CMYK ink configuration.
*2 White ink is scheduled to be available in the earlier second half of the year.