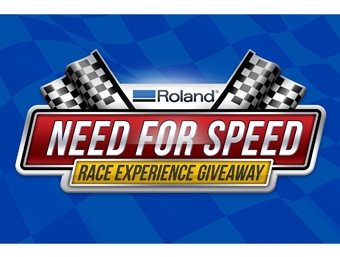 Roland DGA has announced the "Need for Speed" Race Experience Giveaway and Contest, the company's latest contest and an opportunity for print providers to experience both the thrill of professional racing and all the benefits of Roland's fastest and most advanced high-speed inkjet printer.
Featuring dual mirrored print heads, a reinforced chassis, redesigned take-up and pinch roller systems, and wide-gamut Eco-Sol MAX® 2 inks, the SOLJET® Pro 4 XF-640 achieves exceptional image quality at print speeds of up to 1,098 square feet per hour.
Starting this week and extending through December 31, 2013, U.S. residents who purchase an XF-640 and register the machine with Roland will receive a $200 credit to the Richard Childress Racing Store, as well as the opportunity to win one of four VIP trips for two to major racing events in 2014. To compete for the trips, eligible XF owners must enter the "Need for Speed" photo contest by snapping a photo of themselves with their new printer and submitting it to Roland either by e-mail, or by posting it to Instagram with the hashtag #myxfspeedster.
Winners, as selected by Roland, will receive two pit passes, access to the Richard Childress Racing hospitality suite and a "meet & greet" with a Richard Childress Racing personality for one of these four 2014 Sprint Cup races: Daytona, Charlotte, Las Vegas, or Sonoma. Winners will be announced before January 10, 2014.
"Nothing beats speed," said Andrew Oransky, senior director of marketing and product management for Roland DGA Corp. "With an XF-640, you can print twice as many jobs in the same amount of time with the same staff. This kind of horsepower gives you a great competitive edge, allowing you to double your profits and slash turn-around times for better overall customer satisfaction."
For information on the contest, visit the company's Web site at www.rolanddga.com/needforspeed or the Roland Restyling "Born to Wrap" Facebook page at www.facebook.com/Restyling.