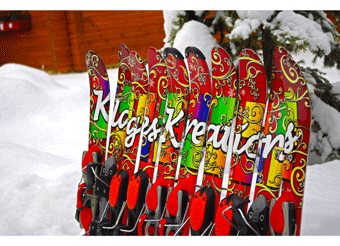 Roland DGA Corp. has announced that Carolyn Klages of Klages Kreations in Oviedo, Florida, is the North American December People's Choice winner in the Roland Creative Awards international design contest. From a field more than sixty entries, Klages' unique "ski wrap" was voted number one in December, winning her a 16 GB Apple iPad2* and Roland headphones.
Her winning entry was designed around a collection of five pairs of skis, lined up and individually wrapped to display the company's logo. Produced on a Roland VersaCAMM VS-420 42-inch metallic inkjet printer/cutter, the wrap includes metallic elements, such as scrollwork and snowflakes, which give it a reflective quality and unified look. Printed on adhesive-backed vinyl using the layered metallic setting in Roland VersaWorks® RIP software, the shimmering prints were then laminated, precision cut on the VS, and installed on each ski. Ski bindings were removed prior to installation and then reattached to create the whimsical display.
"I entered December's contest and was very pleased to hear that we had won," said Klages. "But the real prize for me has been taking a look at creative projects produced by Roland users from all over the globe. Looking at all the many ways artists are using Roland equipment has really sparked our creativity.
"A big 'thank you' goes out to Roland for sponsoring such a wonderful contest to encourage creativity in our field, and also for making great equipment!"
Founded in 1995, Klages Kreations is a custom embroidery, monogramming, and design business that also offers twill and chenille work. The company recently expanded its capability by adding a Roland VersaCAMM VS-420, allowing it to now offer printed, full-color heat transfers, banners, decals and window clings, as well as custom "ski wraps" produced from original artwork.
Since its launch in September 2011, the Roland Creative Awards contest has received more than 750 entries from 14 participating regions representing 123 countries worldwide. Contest entrants compete for monthly People's Choice awards, as well as the grand prize trip to Japan and a machine of their choice.
Entries are being accepted through January 29, 2012.