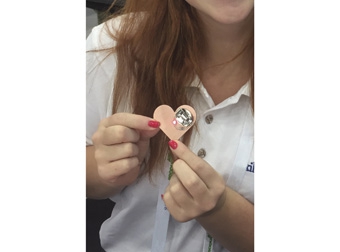 Everyone knows that Girl Scouts hone their business skills selling cookies and create lifelong memories around the campfire. These days, they're also running high-tech 3D rapid prototyping machines.
Leading manufacturer of advanced digital devices Roland DGA has joined forces with Girl Scouts of Orange County as part of the 2016 Girl Scouts of Orange County STEM Consortium. This collaboration is bringing CAD/CAM experiences to Girl Scouts across Orange County to inspire interest in STEM (Science, Technology, Engineering, and Math) careers through fun, hands-on digital fabrication workshops.
The interactive "Design with Technology" workshops, to take place October 14 and October 21, 2016 at Roland DGA headquarters in Irvine, California, will give Girl Scout Juniors and Cadettes the opportunity to turn ideas into reality using Roland's state-of-the-art equipment and software. Girl Scouts will learn to use advanced CAMM-1 GS vinyl cutters to decorate backpacks with personalized graphics; state-of-the-art MDX series milling machines to build circuit boards; and innovative MPX-90 impact printers to imprint photos directly onto metal dog tags. Girl Scouts will also enjoy guided tours of Roland DGA's facility, where they will get an inside look at the company's state-of-the-art technologies.
In addition to learning valuable CAD/CAM skills, the girls will work on earning two STEM badges, available exclusively to Orange County Girl Scouts, created by the Girl Scouts of Orange County STEM Consortium—the brand new STEMsational ME! badge for Juniors and the My STEM Life badge for Cadettes.
"By joining forces with Girl Scouts of Orange County as part of the organization's STEM Consortium, Roland DGA is familiarizing girls throughout the region with digital fabrication and cutting-edge devices," said Matt Anderson, Roland DGA's 3D solutions product manager. "Roland DGA is also actively involved in Fab Lab programs throughout the U.S. and other countries, providing young people around the globe with similar opportunities. It's our hope that these unique experiences will inspire a new generation of makers and innovators."
To learn more about Roland DGA's products and programs that are contributing to STEM education, visit https://www.rolanddga.com/applications/stem-for-education.
For more information on the Girl Scouts of Orange County STEM Consortium, visit http://www.girlscoutsoc.org/stemconsortium.