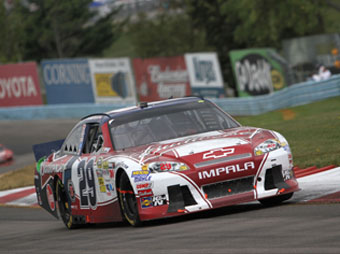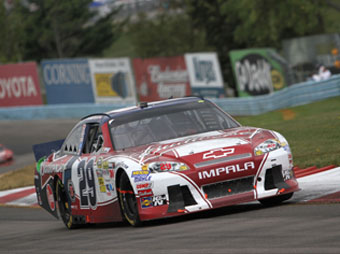 As grand prize winner of the Roland Race Experience Challenge, Mark Caron of MHC Sign and Design is packing his bags for the motorsports trip of a lifetime. Compliments of Roland, Caron and a guest will travel from his home in Payson, Utah to Charlotte, North Carolina to tour the renowned Richard Childress Racing (RCR) Campus and Graphics Center, meet racing industry legends, and experience the best seats in the house at top motorsports events October 12 and 13.
The VIP trip was awarded to Mark for his Roland Race Experience Challenge entry, a testimonial on Roland digital printing equipment which was judged "most compelling" from all other contest entries submitted at the Roland Restyling "Born to Wrap" Facebook page.
Caron wrote, "Since we bought our Roland printer, our business has tripled. The inks are the most vibrant, durable and longest lasting, and when we compare our wrapped vehicles with our competitors' wraps, there is a drastic difference. You can tell that Roland inks are far superior! Roland stands behind their product with top notch customer service technicians and an excellent warranty. The print/cut feature saves us shop space and allows us to focus on our next design while the machine is doing its job flawlessly. Roland . . . the ONLY choice in the wrap industry."
"From the dozens of enthusiastic entries we received, Mark's testimonial truly stood out, illustrating the passion Roland customers have for their work and our products," said Rick Scrimger, vice president and general manager of Roland DGA Corp. "We look forward to sharing all the excitement of the sport with him. Few racing organizations have accomplished what RCR has—more than 200 victories and 14 championships, including six in the NASCAR Sprint Cup Series."
As part of his grand prize trip, Caron will also tour the RCR Graphics Center, one of the industry's largest and busiest wrap design and installation facilities, supporting nine teams, ten drivers, nearly one hundred sponsors, and numerous events each season.
T
o keep up with the organization's demands, the RCR Graphics Center relies on Roland eco-solvent wide-format printers, including one 64-inch VersaCAMM VS-640 metallic inkjet printer/cutter, and three SOLJET models—a 54-inch XC-540 printer/cutter, a 64-inch XJ-640 printer, and a 54-inch XC-540MT metallic inkjet printer/cutter. Roland VersaUV LED printers are also used on-site to produce a variety of signage and event graphics for pit boxes and other high profile areas around the track, as well as for Childress Vineyards.
"Throughout the racing season, we operate around the clock," said Nick Woodward, graphics manager for the RCR Graphics Center. "That's where Roland comes in. Roland printers are built for the fast pace of professional racing. Our drivers always hit the track in style."
For more information on Roland and RCR, visit www.rolanddga.com/rcr.