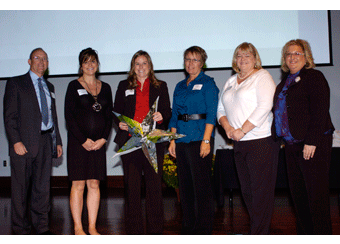 Rowmark LLC was honored with two awards at the Findlay-Hancock County Chamber of Commerce's 48th Annual Small Business Awards luncheon on October 13, 2011 at Winebrenner Theological Seminary: Exporter of the Year Award and Manufacturing Excellence Award.
The Findlay-Hancock County Chamber of Commerce and the Findlay Publishing Company partnered to honor fifteen business and organizations at this event. Since 1963, the awards have been given to small businesses or individual men and women who play a key role in building Hancock County's community and economy through a spirit of leadership and entrepreneurship.
The ceremony was attended by more than 250 business professionals from the Findlay and Hancock County area.
The Small Business Exporter of the Year Award is presented to a nominated company that has experienced increased sales, profits, or employment growth due to exporting and has implemented effective solutions to exporting challenges and overseas marketing strategies.
The Small Business Manufacturing Excellence Award is presented to a nominated company that meets the following criteria: an established business for three or more years under the same ownership, growth in the number of employees, an increase in sales, evidence of contributions to aid community-oriented projects through personal time and other resources, and must be a locally owned and operated manufacturing company with no more than 400 employees.
Rowmark President and CEO Duane Jebbett said, "We are deeply honored to accept these two awards. We have worked very hard to increase our presence in the global marketplace and in the markets we serve. Our growth and success is certainly a testament to our team of dedicated employees, who work diligently to deliver top-notch quality products and service to our customers."
For more information, visit www.findlayhancockalliance.com/default/aspx.