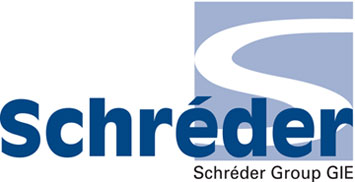 Schreder Lighting US will introduce several new outdoor lighting families at Lightfair International 2012. Schreder Lighting US will exhibit its line in Booth 1032 at Lightfair, from May 9 through May 11. From refined, artistic architectural lighting to durable luminaires that withstand the harshest elements of tunnel and transit environments, Schreder Lighting is the epitome of quality and distinction.
Designed with a compact size and a smart design, the new Enyo family of LED-equipped outdoor floodlights integrates seamlessly into any architectural environment, with elegance and total discretion. Enyo is offered in a static monochromatic version (3 high-power 1.2 LEDs in white, red, green, blue or amber), and in a dynamic model (color-changing 1 RGB 3watt LED) version, with a selection of light distributions from narrow to wide flood. This ultra-compact floodlight is particularly suitable for architectural illumination and light accentuation. The body of the projector is composed of two anodized aluminum parts– the upper part houses the optical compartment, and the lower part contains the power supply unit. The optical compartment is sealed with tempered glass and separated from the control gear compartment by the printed circuit board bracket, which acts as a heat shield and ensures excellent heat dissipation. Totally waterproof with an IP 67 rating, the luminaire can be mounted with a small bracket that allows precise on-site adjustment. A variety of RAL powder coat finishes are available.
The new Noctis family of outdoor recessed LED luminaires features four models – three circular sizes (Mini, Midi and Maxi) and a straight-line version called Linea. 
Noctis luminaires are suitable for both indoor and outdoor applications and can be installed in the ground, in walls or on ceilings. Depending on the configuration, Noctis can be used in public areas such as parks, roadside or town squares or illuminating urban landscapes. Noctis luminaires are equipped with High Powered LEDs in white, red, blue, green, yellow and other colors. Various photometric distributions are available including indirect, semi-direct or direct lighting, with narrow, medium or wide beam distribution. 
A multiplicity of possible configurations offers lighting designers and architects the flexibility necessary to define a scheme's details and achieve the necessary results.
The Neos series of floodlights incorporates LED technology with IP66 rated luminaires in two sizes—Neos 1, equipped with 30 LEDs, and Neos 2, equipped with 80 LEDs. Neos 1 features a monochromatic version with 30 LEDs of 1.2 watt in warm, cold, and neutral white, red, green, blue or amber, and a dynamic version with 10 color-changing LEDs of 1.2 watt in red, green and blue. Neos 2 offers a monochromatic style with 80 LEDS of 1.2 watt in warm, cold, or neutral white, red, green, blue or amber, and a dynamic version with 20 color-changing LEDs of 1.2 watt in red, blue, amber and white. Perfectly suited for the architectural illumination or facades of architectural accents, Neos delivers numerous lighting distributions for each of its configurations. The luminaire is composed of a painted cast aluminum housing with an optical compartment that acts a heat dissipater. A tempered glass protector is sealed on to the cover. The power supply is integrated in small polycarbonate box mounted behind the floodlight, which is attached by a painted steel-mounting bracket that allows the precise adjustment of position on site. A variety of RAL polyester powder coat finishes are available.