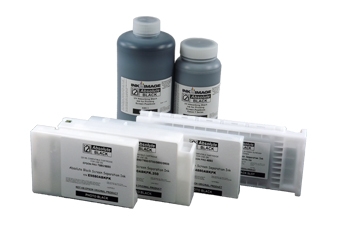 Ink2image, a Glenview, Illinois-based Manufacturer of digital inks and media, has launched a new Web site for producers of digital screen separations. Based around Ink2image's innovative Absolute Black and Clear inks for printing inkjet screen positives, Screenpositive.com also offers many useful accessories, films, and information guides to assist in the screen separation process.
Ink2image Absolute Black inks make use of special UV absorbing dyes that offer superior light blocking characteristics compared to regular OEM ink offerings. This means that screens can be burned for longer during the screen production process resulting in better and longer lasting screens.
Designed for use primarily on printers that employ Epson print head technology, Absolute Black is complimented by Absolute Clear inks for the redundant channels on dedicated screen separation printers. Using Absolute Clear inks saves wasting expensive color inks and keeps printheads fresh.
"At Ink2image, we have been supplying specialist inks for the screen printing industry for the last ten years. With Screenpostive.com, we are making these products available on-line for the first time" explains Tony Martin, Ink2image President "We have learnt a lot about producing screen separations and how best to use Inkjet printing for this process, and this knowledge is now available in one place."
For more information on pricing and availability—or to discuss how Ink2image's products for making screen separations can benefit your bottom line—call Ink2image at 847/827-0747 or visit www.screenpositive.com.