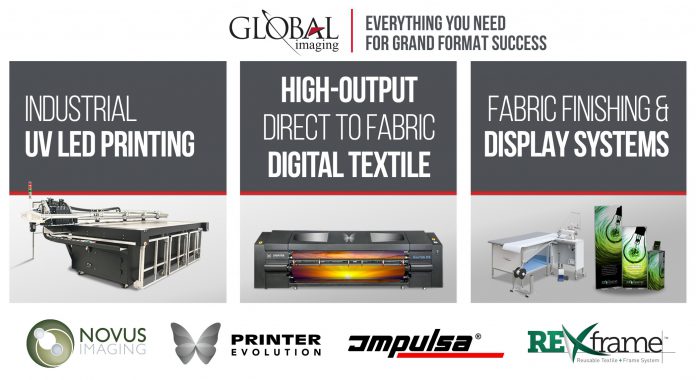 From UV LED flatbed printing to fast in-line industrial digital textile printing along with sewing and fabric framing systems, print shop owners large and small will discover what some of the top shops in the U.S. are using for their equipment when they visit Global Imaging booth #2217 at SGIA.
PrinterEvolution's Eos126 DS has been the top selling PrinterEvolution product in 2015. It is an industrial direct to fabric printer with on-board calender, designed for the high-output fabric producer. The Eos126 boasts built-in efficiencies like an optional inline cutting system and an automatic turn-off control that will finish the curing and shut off the calender automatically when the printer is unattended. The Eos126 also offers a high-capacity bulk ink system for continuous printing and high ink yields. It is available in two widths (126-inch and 100-inch) and two configurations (eight printheads or twelve printheads).
SGIA marks the unveiling of the newest grand format UV curable printer from Novus Imaging, the ULTRA. This industrial flatbed features a breakthrough, automated vacuum zoning system that detects where your media is and focuses all of the vacuum's power on that spot, regardless of sheet size. Owners of this equipment can run reduced print sizes and save hours of setup time without taping and masking. Advanced UV LED curing and ink technology delivers low temperature curing and reliability without sacrificing print speed, color gamut, ink adhesion or media versatility. The ULTRA, is available in three models and is upgradeable to fit budget and growth.
Eliminate the fear of finishing with Impulsa Sewing systems designed for the production of SEG backdrops, flags, banners, backlit fabric lightboxes, table skirts, and more. Choose from multiple options and configurations for almost any application. Beautiful fabric graphic displays can be created with REXframe customizable and reusable, aluminum framing systems. Easy to assemble, ship and store, these SEG textile display systems are as versatile as your imagination.
More information at https://apps.sgia.org/vts/company/index.cfm?Mbrno=168506